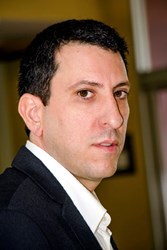 "Robb has been a critical part of our team since he joined PCI, managing our relationships and helping us grow our business in Manhattan," said Progressive Computing CEO Robert Cioffi.
New York, NY (PRWEB) January 31, 2014
Progressive Computing (PCI) – a computer consulting and network installation, design and maintenance firm serving clients from offices in Manhattan and Westchester County, NY – has announced the promotion of Robert Patterson to Director of Sales and Marketing. A 13-year veteran of the IT industry, he has worked at Progressive Computing since 2011 as Business Development Manager.
In his role as Director of Sales and Marketing, Patterson will still establish new client relationships and work as an account manager, and is also in charge of marketing, advertising and promotion for Progressive. He will oversee publicity outreach initiatives, like newsletter publications and seminars, continue his active role in community and trade organizations, and seek more speaking opportunities like this recent roles as a panelist at the ChannelPro SMB Forum in New Jersey and panel moderator at the New York Expo and Business Conference in Manhattan. Patterson will also manage the PCI sales team in their efforts to expand the company's client base in Westchester and Manhattan.
"I'm really excited about my new position at PCI, and the opportunity to shape our sales and marketing practices to help the company reach new levels of success," said Patterson. "I am confident that we will form many fruitful relationships in 2014 and beyond."
Robb Patterson is a leading technology consultant and advisor to businesses and community organizations, as well as a sought after speaker and writer, in the New York Metro Area. He began his career as a freelance web designer, and then became a system administrator for a 40-use not-for-profit organization where he developed and managed the logistics department in addition to their computer network.
In 2005, he founded the New York Small Business Server Group (NYSBS), which has grown into one of the largest SMB-focused technology peer groups in the world. With Patterson leading the way as its acting president, NYSBS' 280+ members share industry best practices, collaborate to solve challenges, educate one another, and benefit from positive relationships with leading hardware and software vendors.
An active member of the Manhattan Chamber of Commerce, Patterson serves as Co-Chair of its Tech Committee, developing and supporting technology-related events, and its Mid-Market Committee, which will build the Chamber's mid-size business membership. Since 2010, he has been on the steering committee for the New York Business Expo & Conference, an annual event that features 200 exhibitors and 40 seminars, and attracts more than 10,000 executives.
"Robb has been a critical part of our team since he joined PCI, managing our relationships and helping us grow our business in Manhattan," said Progressive Computing CEO Robert Cioffi. "He's always taken an active role in marketing and been very participative in community initiatives, so this promotion is not only well deserved but a logical extension of his natural talents."
About Progressive Computing, Inc.
With offices in Westchester County, NY and Manhattan, Progressive Computing, Inc. is a leader in computer network installation, design and maintenance, offering professional, cost-effective IT services, computer consulting, technical support and computer repair to organizations since 1993. They are focused on providing cost-effective, reliable and right-sized solutions. As a Microsoft Small Business Specialist,, the PCI technicians and computer consultants are dedicated to delivering IT solutions that leverage a blend of both proven and cutting-edge technologies. Clients regard them as their "on-demand" information technology department, entrusting that their recommendations, services and products will help them save money, become more efficient, and grow their businesses. Progressive Computing can support any IT outsourcing needs in a variety of ways with services that can be tailored and combined with others to deliver a custom solution to meet clients' exacting needs. These include:
ProManage: An all-inclusive fixed price contract to cover all technology needs.
ProHosting: Enterprise-class datacenter services to the SMB for mission critical applications.
ProAudit: Computer consulting services that scrutinize and appraise the strengths and weaknesses of existing computer networks and systems.
ProBackup: Disaster Recovery service plan subscription that uses a combination of an onsite backup appliance and secure offsite data storage.
General IT Services: Project or incident-based services with no contractual obligation.
New York City Office
Progressive Computing, Inc.
60 East 42nd Street
Suite 1161
New York, NY 10165
Tel: 212.681.1212
Westchester County Office
Progressive Computing
35 East Grassy Sprain Road
Yonkers, New York 10710
Tel: 914.375.3009
http://www.progressivecomputing.com/