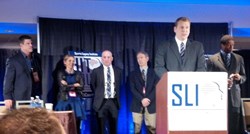 Youth sports do not come without risks and the safety of young kids relies on providing the appropriate medical coverage with preventative care, on-field care, and rehabilitation as well as concussion recognition and management.
New York, NY (PRWEB) January 31, 2014
Super Bowl Media Week 2014 has provided a public platform for some landmark developments in concussion research, legislation and awareness and the New York State Athletic Trainers' Association (NYSATA) has been fortunate to have involvement in many of these recent events.
Due to the proactive actions and interest of Yorktown HS athletic trainer and NYSATA executive council member, Dave Byrnes, MS, ATC, NYSATA was fortunate to have one of the few healthcare professionals – and the only athletic trainer - present at the Sports Legacy Institute (SLI) press conference on Monday, January 27th at the 2014 Super Bowl Media Center in New York City. The non-profit SLI unveiled the "Hit Count®" certification program after two years of development. "Hit Count" builds on the progress that is being made by head sensor device companies, which can measure acceleration of the head and forces during blows to the head, using similar technology that is available in many smartphones. Inspired by 'pitch counts' in baseball which are used to help prevent arm injuries in pitchers, "Hit Count" hopes to one-day develop safety guidelines specific to the number of contact repetitions and limitations that are recommended to help prevent concussions and brain damage in contact sports – to prioritize the health and safety of the brain.
Chris Nowinski, founding Executive Director of SLI addressed the crowd, stating, "Most hits are unnecessary and occur in practice. By utilizing Hit Count® certified products as a teaching tool for coaches and a behavior modification tool for athletes, we can eliminate over 500 million head impacts next season."
Mr. Nowinski was a featured panelist at the 2013 NYSATA Conference in Jamestown, NY during a session based on his book and subsequent film 'Head Games'. As a former collegiate and professional athlete, he understands and appreciates the value that athletic trainers (ATs) can provide in sports safety, including concussion management, and was happy to speak to Mr. Byrnes on the role ATs can play in the "Hit Count" certification program moving forward. Essentially it can be a symbiotic relationship, as SLI is seeking to penetrate high school and collegiate athletics with putting testing sensors in place for data collection and ATs would benefit from having real-time data on the volume, frequency, and intensity of hits occurring in contact practices and games – assuming there are avenues in place to make the program user-friendly and affordable.
Following the event, Byrnes stated, "The big takeaway is that Hit Count is in the beginning stages, with research moving into the next phase of on-field data collection. This could be a great opportunity to get involved in this cutting-edge research program on the ground floor if it is logistically and economically possible for your institution."
During the event, Mr. Byrnes also made a critical connection with Katherine Snedaker, MSW, concussion awareness advocate and founder of three organizations for concussion awareness, prevention, research, and support – SportsCAPP.com (Concussion Awareness and Prevention Program), PinkConcussions.com, and TeamConcussion.org.
Ms. Snedaker expressed her support for ATs and proceeded to invite Mr. Byrnes to attend a Youth Sports Concussion Summit and the pre-meeting dinner in Stamford, CT on Thursday, January 30th that she organized in conjunction with The Orthopedic & Spine Institute of Stamford Hospital and Chelsea Piers Connecticut. The focus of the summit was to discuss possible impending concussion litigation for youth sports programs and to address how best youth sports organizations can manage their legal risk with the approaching wave of concussion lawsuits at the NCAA and high school levels.
Another development in concussion safety in NYS was the announcement on Wednesday, January 29th by NYC Councilman Stephen Levin that he plans to introduce the Youth Football Safety Act, legislation that would create new safety measures for youth teams, including, but not limited to, the Public High School League (PSAL), Catholic High School League, and Pop Warner leagues. Among a list of safety measures is the requirement that an athletic trainer or doctor be on premises for all full contact practices.
Deanna M. Errico, PT, DPT, ATC, NYSATA President, believes that this Youth Football Safety Act is a step in the right direction for protecting youth involved in sports and states, "Youth sports do not come without risks and the safety of young kids relies on providing the appropriate medical coverage with preventative care, on-field care, and rehabilitation as well as concussion recognition and management. NYC appears to have a greater need than some other areas in the state for coverage of practices by ATs. This Act would serve as a great assist for the athletes, coaches, families, and medical professionals in the area."
Jim Gossett, MS, ATC, Head Athletic Trainer at Columbia University, who has worked in NYC since 1979, added, "Throughout the United States the trend over the past twenty years has been to give youth sports programs knowledgeable professionals to evaluate and care for potential traumatic brain injury and catastrophic injuries. For those reasons, I am supporting the proposed Youth Football Safety Act that would require youth football teams in New York City to have athletic trainers and physicians on the sideline." One of many AT-related positions on Mr. Gossett's long resume that makes him uniquely qualified to address concussion safety is serving as a 'spotter' for the National Football League (NFL), in which his role is to look for mechanisms of head and neck injury during games and inform the medical staffs on the sidelines of his observations.
One of the reasons given for Councilman Levin's decision to take action was due to his apparent shock regarding the Esquire Network's new "Friday Night Tykes" documentary series, which follows youth football teams in Texas. And he is not the only one concerned about what this show depicts in respect to the lack of player safety, including instruction of dangerous techniques that can put players as risk and the seeming lack of appropriate medical personnel present. On Wednesday, January 29th, the National Athletic Trainers' Association (NATA) issued an Official Statement in response to the show, speaking out against the "… blatant disregard for player safety displayed in [this] new program…"
NYSATA was pleased about the public stance the NATA took this week with their announcement to promote sports safety and denounce platforms that attempt to undermine these efforts. They also used the opportunity to reiterate that in situations where appropriate medical coverage, such as an AT, is not, or cannot be, provided that responsible adults – coaches, parents, officials – are educated and proactive in ensuring safety for athletes of all ages. The NATA and its affiliate organizations, including NYSATA, work to provide educational materials and guidelines for various health and safety issues and provide endorsement of outside organizations that also provide valuable educational tools and information. Although issued in response to a specific television program, this NATA statement embodies the values of athletic training to provide a safe environment for the enjoyment of athletics. These are concepts that ATs focus on every day, but the outpouring of sport safety-related events is thrilling to see happen during this week prior to the Super Bowl and NYSATA is happy to be a part of it all.
NYSATA, founded in 1976 and incorporated in 1989, stands to advance, encourage and improve the profession of athletic training (AT) by developing the common interests of its membership for the purpose of enhancing the quality of healthcare for the physically active in NYS. Athletic training is practiced by certified athletic trainers (ATs), who have expertise in the assessment, emergency management, rehabilitation and prevention of acute and chronic sport-related injuries, illnesses and conditions, including concussions. Comprised of over 1,200 certified and practicing athletic trainers, NYSATA is the state-wide affiliate of the regional EATA and District Two of the NATA.