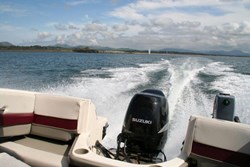 Make reference to your serial number, insurers will not pay claims without serial numbers and proof of purchase.
UK (PRWEB) January 31, 2014
Insurance Risk & Claims Management issued a warning about a steady increase in outboard engine thefts.
http://www.marineinsurance-ircm.co.uk/outboard-engine-thefts-police-warning
Countrywide both small and large outboard engine theft is a serious exposure and all boat owners and yards need to look at their security provisions.
In the case of yards, CCTV systems are becoming cheaper and more manageable with internet options from as little as £300 now commonly available in high street shops.
Boat owners are urged to take security seriously there are a wide variety of proprietary locking devices are now available for all engines, without a lock a boat engine is highly likely to be targeted.
Other simple measures can be adopted which do not have a cost implication – post code marking/data tags and UV protection with full name and address details – simple steps can help particularly if engines are recovered in police investigations.
All types of engines are being stolen, whilst there is a preference for modern 4 strokes, even older engines are stolen. A free engine is a cheap engine to anybody and they often leave the country quite quickly.
A reference to the boats serial number will help boat insurers process claims faster as boats without serial numbers and proof of purchase will encounter problems.
For more information on risk management how to protect your engine and in your engine and your yard contact Insurance Risk & Claims Management.