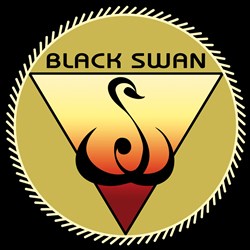 Black Swan's mission is to create community through art, to serve and connect artists and their audiences without labels or preconceptions. The not-so-secret objective is peaceful infiltration.
Boulder, CO (PRWEB) January 31, 2014
Black Swan Sounds, the young imprint of leading yoga music label White Swan Records, is set to embark upon a new era of independent management, with longtime White Swan label manager Joel Davis in the leadership position. Over the first quarter of 2014, Davis will phase out from his role at the highly successful Boulder-based label in order to direct all A&R, marketing and overall business as Minister of Music and part owner of the Black Swan Sounds label.
Founded in 1991, White Swan is well-established and respected in the yoga/wellness community. Most of the music in their diverse catalog – including the seductive (and bestselling) mantras of Deva Premal & Miten, Donna De Lory's devotional pop and the Kirtan Americana of David Newman – expresses a practice of devotion, mainly through mantra (meditative chant) or kirtan (call-and-response chant) inspired by the ancient Vedic traditions of India.
The same conscious community that snaps up CDs, downloads tracks and attends concerts by White Swan artists in droves is Black Swan's core audience as well. But where White Swan's music is mostly on the mellower side, with a strong current of devotional chant running through it, Black Swan aims to explore more adventurous sonic terrain, communicating that same spiritual energy but in a "secular" way.
Says Davis, "Our releases draw from that river of devotion, but it comes through more in the energy of the music and the artist's intent behind it. We want to convey that peaceful, positive message of community, but do so in a way that someone with no idea about -- or interest in -- what that means will still feel the music."
The uplifting "high vibes," conscious lyrics and organic elements that ground the digital and electronica aspects of the music with a natural, soulful feel, are essential to the Black Swan sound, and are the common thread woven through Black Swan's music in all its myriad forms, including: DJ Drez's global hip-hop, equally informed by over two decades as one of LA's top underground DJs and a practicing yogi; the transnational, bass-heavy, etheric "downtemple" dub soundscapes of Desert Dwellers; Brooklyn-based Srikalogy's visionary future urban fusion of hip-hop, dub, dubstep, world and kirtan; the genre- and globe-hopping EarthRise SoundSystem; and the enchanting works of newcomer Sheela Bringi, who folds elements of jazz, Balkan, klezmer and even experimental music in with her classical Indian training.
Black Swan's mission is to create community through art, to serve and connect artists and their audiences without labels or preconceptions. The not-so-secret objective is peaceful infiltration. "Music has always been about people coming together and having fun," says Davis. "We want to take that a step further by delivering an experience that draws listeners in through a conscious acknowledgement that we're all one, so let's work, play and dance together to make our world a better place."
Joel Davis, himself a lifelong music fan, has seen the music business from many perspectives. A radio programmer and producer at KGNU (Boulder/Denver) for over two decades, in 1996 he launched a sacred world music label for Boulder-based audio publisher Sounds True. In 2001, he became White Swan Records' label manager, overseeing most aspects of the company's operations and the output of nearly 100 releases.
In addition to label management, Davis has written about world music for various publications, DJ'ed at clubs and events, managed the late Hamza El Din, booked tours and engineered live performances. He continues to host "TerraSonic," his popular weekly global freeform mix show on KGNU -- and also performs wedding ceremonies as "Poetic Justice of the Peace." In addition, he's an avid gardener, beekeeper and ice hockey goalie.
Black Swan Sounds will have a presence at this year's major yoga festivals, e.g., Bhaktifest, Shaktifest, Hanuman, and Wanderlust, with more events planned. Davis says "live appearances are a prerequisite for our artists: playing out – and often. DJ Drez and Sheela Bringi have busy tour schedules shaping up. Desert Dwellers does as well, opening for Shpongle on a North American tour starting in February."
Black Swan Sounds releases planned for 2014 include:
February 25: Incantations by Sheela Bringi. The debut album by this promising young artist has already been noticed by NPR, PRI and other media.
March/April: Srikalogy, from Brooklyn-based artist Srikala – a natural fusion of hip-hop, dubstep, kirtan and more.
April: A collection of remixes by Desert Dwellers, one of the label's best-selling artists, with remixers including Banco de Gaia, Jef Stott, and Drumspyder.
May: A compilation of tracks by Canadian global bass legend Adham Shaikh.
Also in the works: new music from the globe-trotting DJ Drez and from EarthRise SoundSystem.
# # # #