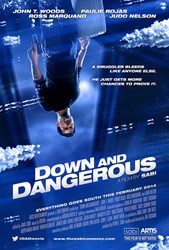 A smuggler bleeds like anyone else. He just gets more chances to prove it.
Los Angeles, CA (PRWEB) January 31, 2014
Artis Entertainment and Gravitas Ventures announce the nationwide Theatrical and VOD release of The Sabi Company's critically acclaimed indie action feature film Down and Dangerous.   This contemporary American independent film is an action-crime thriller written and directed by Zak Forsman (Heart of Now), and stars John T. Woods (V/H/S/2, Criminal Minds), Paulie Rojas (Witches of Oz), Ross Marquand (Mad Men), and Judd Nelson (The Breakfast Club). 
 
Down and Dangerous is an artistic, fast and fun action film about a principled smuggler that needs a peaceful way out of an increasingly violent drug trade in order to protect the woman he loves. The micro-budget was raised by crowdfunding via Kickstarter and created with a 6-person crew that shot over 39 days in 30 locations throughout California and Mexico. Down and Dangerous played at 13 festivals with sold out theaters, and received 7 awards including Best Actor and Best Narrative Feature. The film is scored by Deklun, edited by Jamie Cobb and produced by Kevin K. Shah.  Total running time is 95 minutes.
Down and Dangerous takes inspiration from writer/director Zak Forsman's Father and his career in the cocaine trade as an independent smuggler, the story of which was documented in the New York Times non-fiction best-seller, Snowblind.  The film was produced by The Sabi Company, an award-winning production house and collaborative studio whose provocative, high-quality, contemporary feature films include White Knuckles and Heart of Now, both critically acclaimed and widely available.  The Sabi Company has 2 new films scheduled for production in 2014, and a development slate that includes documentaries, a television series, and transmedia.
 
Artis Entertainment will release Down and Dangerous theatrically in over 15 North American markets including Los Angeles, Portland, Houston, Chicago, Denver and Toronto on February 14, 2014.  Gravitas will release the film On Demand to over 100 million cable & satellite subscribers across all digital platforms (Time Warner, DirecTV, Cox, Comcast, Bright House, Verizon, AT&T, itunes, Xbox, Vudu, Google Play, and Playstation, etc).
 
For more information on Down and Dangerous, visit: http://www.downanddangerousmovie.com
For more information on The Sabi Company, visit: http://thesabicompany.com/.
Contact: kevin(at)artisentertainment(dot)com                                        Twitter: #DADmovie