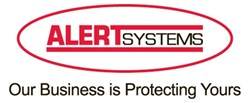 Commercial security systems can play a vital role in the day to day safety of any establishment, so it of the utmost importance that the CCTV systems that are in place are suitably placed and fit for purpose
(PRWEB UK) 1 February 2014
According to an article in the Hull Daily Mail entitled 'Dramatic CCTV images show armed robbery at Horsea Post Office' published on the 29th of January, 2014, the Hull Police department have released still images of the incident in an appeal for further information.
The robbery is said to have taken place at roughly 6:45pm in the Cliff Road Post office, where a robber is seen to be holding was alleged to be a shotgun to the back of a man's head. The offender is seen in images on the Hull Daily Mail online entry wearing a black jacket, dark trousers and a balaclava. The paper also reports that no one was injured.
The experts at AlertSystems understand that a CCTV security system can be an important installation in a business, particularly as it can offer a certain amount of reassurance to members of the public and staff. A representative for the company shared their thoughts:
''When placed in a tactical position, a CCTV can offer valuable reassurance to members of the public and staff members. As CCTV security systems can be and effective crime preventative, these systems can offer reassurance to members of public that they are in a safe and protected environment in the unfortunate case that a crime does occur, the CCTV system can record footage which can provide valuable evidence in police investigations.
'Commercial security systems can play a vital role in the day to day safety of any establishment, so it of the utmost importance that the CCTV systems that are in place are suitably placed and fit for purpose.'
AlertSystems manage and maintain over 5000 security installations throughout the UK and are specialists in providing business security solutions. Offering professional service and a complete range of security services such as monitored alarm systems, Automatic Number Plate Recognition and Avigilon CCTV security systems. AlertSystems offers effective and reliable solutions to security problems.