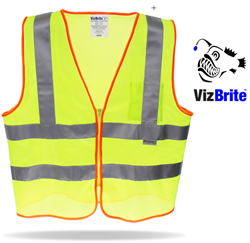 Receive your promo code through the Gumshoe Deals page.
Seattle, WA (PRWEB) January 31, 2014
Since launching in late 2013, VizBrite Safetywear, a personal protective equipment (PPE) manufacturer and online retailer sold exclusively through Amazon.com has quickly risen through the ranks in the Personal Protective Equipment (PPE) space.
With so many brands to choose from, VizBrite Safetywear has fought its way into the coveted (Best Sellers, Top Rated, and Hot New Releases) category on Amazon, much like the AFC Champion Denver Broncos and the NFC Champion Seattle Seahawks battled their way into Super Bowl XLVIII.
Early success in the VizBrite high-visibility safety vest can be attributed to the "premium" materials (3M Scotchlite™ Reflective Material) and design functionality used in making such a lightweight multi-functional reflective vest.
To celebrate the success and perseverance of the two NFL (NFC and AFC) champions in Super Bowl 2014 and the early success of VizBrite™ Safetywear on Amazon.com you can receive your own Vizbrite™ high-visibility safety vest at 50% discount for a limited time through the Gumshoe Deals page.
To get more information and receive your limited promotional discount code "click here" to get your hands on an amazing vest that could potentially save a life.