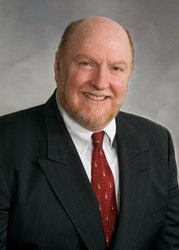 St. Charles, MO (PRWEB) February 04, 2014
Don Kohl, partner in the St. Charles, MO law firm of Shea, Kohl & Alessi, LC, was one of three experts recently featured in the national "Complex Social Security Law Issues" video webcast seminar offered by the National Business Institute. Specific topics included during the day-long Continuing Legal Education class were: Cross-Examination of the Vocational and Medical Expert, Intake Issues, and Avoiding Ethical Pitfalls.
Mr. Kohl's extensive experience in Disability, Compensation, and Personal Injury has led to his demand as a speaker in these areas of the law. He has given a number of talks in Missouri, the reviews for which led to his invitation to be part of this national panel on Social Security Law. During the seminar, Mr. Kohl addressed such questions as: "Do you have Social Security law questions you're not sure how to answer?," "Are you keeping up with the rapidly-changing rulings regarding Social Security law?," and "Do you have the knowledge to assure that all available benefits are obtained?"
Mr. Kohl earned his law degree from Washington University in St. Louis. He is a member of the National Organization of Social Security Representatives and the National Association of Disability Representatives, as well as the Missouri Association of Trial Attorneys, the Missouri Bar, and the St. Charles County (MO) and Illinois State bar associations. He is a long-time prosecutor for the City of St. Charles (MO) and has been the municipal judge for the City of St. Peters (MO) since 1985.
Mr. Kohl offers no-cost consultations to individuals pursuing disability benefits from Social Security. Cases are handled on a contingent basis, so fees are paid from the judgment he wins. Additionally, Mr. Kohl offers assistance to other attorneys with cases involving Social Security law on a co-counsel basis. He can be reached at (636) 946-9999 or by email at dkohl(at)skalawfirm(dot)com.