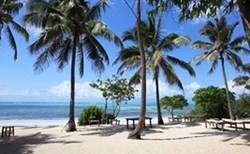 (PRWEB UK) 31 January 2014
To celebrate the beginning of the New Year, specialists in offering multi-center breaks and tailor-made travel within Africa, Freedom Africa are thrilled to add the latest package to their ever-expanding portfolio in the form of their exclusive Tanzania Safari & Zanzibar adventure.
Taking in the rugged yet wondrous landscape of the Ngorongoro Crater – often referred to as the cradle of life – as well as the golden stretches of sand on the island paradise of Zanzibar, this 13-day adventure proves one of the most versatile in the entire Freedom Africa portfolio, given the diversity in locations.
Available at a highly competitive price of £1934 per person, travelers are able to conquer Tanzania's revered Northern Circuit which includes all the major sights of interest, namely Mount Kilimanjaro, the cultural hotbed of Arusha, Lake Manyara and the Serengeti.
The journey will begin in the Tarangire National Park however; Tanzania's sixth largest reserve while boasting a significant population of elephants so excitable travelers will be more than able to witness these remarkable creatures up close.
With every one of Freedom Africa's tours built around each and every tourist, like other adventures in the portfolio, travelers choosing the Tanzania Safari & Zanzibar adventure will be accompanied by a hand selected guide.
These guides operate as a trusty source for all necessary information surrounding some of the most popular attractions in all of Africa.
Understanding travelers' modern day notions regarding packing their holiday with as many different experiences as possible, day eight sees travelers whisked off from the Tanzanian mainland to the island paradise of Zanzibar, 16 miles offshore at the nearest point.
While here, travelers will trade their hiking boots for their beachwear as safari makes way for sunbathing and relaxation. Freedom Africa's Tanzania Safari & Zanzibar adventure understands that travelers are likely to want to rest weary limbs after hot footing it around the reserves of Tanzania's Northern Circuit.
Relaxation is the order of the day at Kichanga Lodge – Freedom Africa's accommodation of choice – where travelers will spend five nights located beside an idyllic palm fringed beach on Zanzibar's east coast.
Guests are invited to reside in cosy beach cottages with uninterrupted views of the Indian Ocean which laps the shore just meters away.
Freedom Africa allows the traveler to decide their own itinerary when arriving at Kichanga Lodge with a dive center and massage parlour located on site, and with Stone Town residing an hour away, for those inclined, they may wish to flock to the hugely historical vicinity.