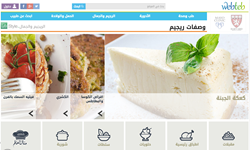 Amman, Jordan and Ramallah, Palestine (PRWEB) February 03, 2014
WebTeb, the leading Arabic health and lifestyle portal, announced today it is joining forces with Manal Al-Alem, a Palestinian Chef and one of the most prominent chefs in the global Arabic community.
For over 15 years, Chef Manal Al-Alem has been sharing her cooking skills with families in the Middle East region. Her cooking show and online presence – manalonline.com – have brought traditional Middle Eastern dishes to life with photos, accessible ingredients, easy to understand measurements and simple preparation and cooking instructions.
Now, working with WebTeb's dieticians and as part of the WebTeb TebStyle section, WebTeb will add nutritional information to Manal Al-Alem's recipes, doing a service to healthier cooking and letting Arabic language speakers make better nutritional choices. In addition, WebTeb's professional staff will suggest adaptations of some of the recipes for diabetics, pregnant women and other health concerns. The recipes will be available on both WebTeb and manalonline.com.
"Working with Manal Al-Alem is an honor," said Dr. Mahmoud Kaiyal, Founder and CEO of WebTeb. "We are committed to improve the health and well-being of the Arabic speaking region, and this includes providing people with better nutritional information and above all showing that one can enjoy traditional Middle Eastern food while staying aware of healthy life choices."
"WebTeb was a natural choice for me," said Manal Al-Alem "since I wanted to collaborate with a leading health brand that takes care to base decisions on science. I look forward to making an impact on the way people think about healthy eating and cooking."