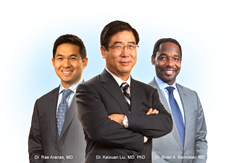 I was referred to Dr. Liu and was happy to meet a doctor who was actually concerned and wanted to help me.
West Orange, NJ (PRWEB) January 31, 2014
The advancements in endoscopic spine surgery have proven that chronic back and neck pain requiring surgical intervention may be treated with greater precision with a quicker recovery time, but what of bedside manner? Dr. Kaixuan Liu, MD, PhD, president of Atlantic Spine Center believes that excellent bedside manner is one of the key components of a successful surgery and recovery.
Many patients come to us after living for years with chronic back pain and are either nervous to undergo a procedure, or worried that it will not help. Putting a patient at ease and developing a friendly repertoire provides patient reassurance and open communication for discussing and understanding the medical regimen at hand.
There are often cases where patients have tried several attempts at treatments for neck or back problems and they are at their wits end to find relief. These patients may have even undergone surgery from a previous facility before and continue to be disabled by their pain on a daily basis. When Dr. Liu addresses his patients it is with heart and understanding. He takes the time to make sure his patients fully understand their diagnosis and options for care. Dr. Liu and the staff at Atlantic Spine Center are dedicated to making sure they help to put their patients at ease with exceptional care and a reputable bedside manner.
Over the years Dr. Liu has received many praises and testimonials from his patients, here are just a few quotes.
From Marie: "I want to thank your staff at the office and at the Surgical Center for being so helpful and caring. I never met so many fantastic people in one area, let alone two. At the office they were always there to help and answer questions"
Peggy Says: "Dr. Liu is an outstanding, kind, and miracle worker. He has made me pain free and able to live a productive life again. Thank you so much.
Submitted by Tanya: "I was referred to Dr. Liu and was happy to meet a doctor who was actually concerned and wanted to help me. After speaking with him, my husband and I felt very comfortable with his plan for alleviating my pain. My family and I have referred several people to Dr. Liu and I know that they will be as happy with their results as I am."
To read about these and more success stories that will warm your heart, stop by the Atlantic Spine Center patient testimonials page here.