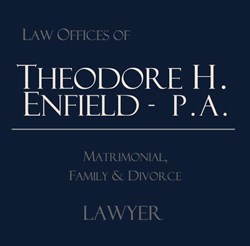 Miami, FL (PRWEB) February 03, 2014
Alimony is offered to limit any unfair economic effects of a divorce by providing a continuing income to the non-wage earning, or lower-wage earning spouse. If a spouse will face hardships without financial support, alimony should be considered in order to help maintain the spouse at his or her customary standard of living. In other words, the law recognizes that a husband or wife should not be forced to live at a level below that enjoyed during the marriage.
Divorce attorney Theodore Enfield has expertise in all areas of divorce, including the problems that may arise through a divorce. Following Florida alimony laws, he now announces three alimony options: Temporary, rehabilitative, and permanent.
Temporary Alimony:
Temporary alimony is often awarded when the parties are separated and the divorce is not yet final. It is given so that a spouse may maintain their lifestyle during the processing divorce period. This type of award can become necessary due to the length of time it could take before the final decree is issued and a permanent alimony award can be made.
Rehabilitative Alimony:
Rehabilitative alimony is financial support that is provided for a short period of time; to allow the receiving spouse time to either obtain job training, an education, or job experience, as well as to become self-sufficient. It is also generally awarded to the mother of small children so that she may remain at home with them until they reach school age. Rehabilitative spousal support is normally set for a fixed period. The parties can agree to a time line or it can be mandated by a court.
Permanent Alimony:
Permanent alimony becomes effective upon the final dissolution of the marriage and continues until the death of the payer, the death of the recipient, or the remarriage of the recipient. In some cases it can continue after the remarriage of the recipient.
Permanent alimony can be adjusted upwards or downwards based on a change of circumstance. An adjustment in the amount of support depends on any financial changes in the life of the payer of the recipient. If the recipient obtains a job with a higher salary, the payer can petition the courts to modify the spousal support so that the amount can be lowered. Likewise, if the recipient suffers a loss of salary or a traumatic medical problem they can petition the courts and request an increase in support.
Divorce attorney Miami expert Theodore Enfield and Florida courts will consider a variety of factors when determining whether to award alimony and the amount to be awarded, including: Length of the marriage, Standard of living during the marriage, Age and the health of each party, Financial resources available to each party, Contributions made by each party to the marriage, Behavioral issues such as adultery
About Theodore E. Enfield law office:
For over 30 years, the Law Firm of Theodore E. Enfield has helped hundreds of Florida families with different family law issues pertaining to divorce, domestic violence, prenuptial agreements, equitable property settlements, child custody, and child support.
With years of experience handling court cases and different family law scenarios, Enfield has built a reputation as the most trusted divorce lawyers in Miami.
When meeting with individuals or couples seeking divorce, before any proceedings begin, the highly-experienced divorce attorney ensures his clients know exactly what to expect before they file.
The family law attorney provides each client with a free Florida family law consultation explaining the impact divorce and will have on them financially, in addition to the potential implications it may cause on the rest of their family.
Before making any major decisions, Enfield encourages clients to first seek his free consultation services to get a firm understanding what is expected and the potential expenses associated in filing any lawsuit.
To schedule a free consultation or inquire about different family law services the Law Firm of Theodore E. Enfield offers, call their direct line at (305) 933-9592 or toll free at 800-733-5299.
For more info and non-urgent questions or issues visit http://www.theodoreenfield.com/