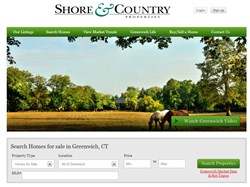 Riverside, CT (PRWEB) January 31, 2014
Shore and Country Properties, Greenwich, Connecticut's number one independent real estate firm, is proud to announce the digital release of a highly informative wrap-up of the 2013 real estate market.
The report not only offers a complete overview of the entire residential market, but they take it a step further by breaking down sales by school district. In addition, the report provides information on the outlook of the 2014 real estate market, offering an optimistic perspective, as well as advice for potential buyers and sellers.
The real estate professionals at Shore & Country Properties pride themselves on being the best in the business. They are always eager to make their experience work for their clients and support them with whatever they need. They believe in providing the real estate services their clients not only need, but deserve. This commitment to excellence is reflected in the report. The data shows that Shore & Country Properties gets their sellers the highest prices and sell the fastest when compared to their competitors.
The report is available online through the Shore & Country Properties website. It can also be viewed by visiting http://digitalpub.hearstdirectpublishing.com/publication/?m=30492&l=1.
About the company:
Shore & Country Properties was originally started by Russell Pruner in 1989 as Russell Pruner and Associates. His vision for a company comprised of the town's best full-time real estate professionals. Nancy Healy joined the company as a partner in 1996. Since starting her career in real estate in 1987, Healy has been one of the town's busiest and well-respected realtors. Recently, her peers voted her one of America's Most Preferred Realtors. The year 2000 brought the addition of two more partners, Joan Epand and Ken Yorke. Each added yet more talent to the group, from Espand's marketing expertise to Yorke's sharp accounting skills and operational abilities.