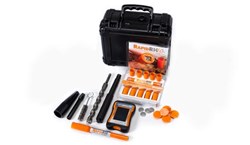 Rogue River, OR (PRWEB) February 03, 2014
Wagner Meters now offers a new combo kit for flooring installers and building inspectors who require accurate moisture measurement tools for concrete floor installations.
The WFP200- Concrete Flooring Package will include:
The RapidRH Starter Kit

The Rapid RH® Easy Reader/5-pack Smart Sensor combo
Vacuum attachment
Wire brush
Drill bit
Insertion tool
Rapid RH® Datamaster™ w/Bluetooth® reader
A convenient foam-lined carry case
The WFP200 – Concrete Flooring Package from Wagner Meters' Flooring Division combines the accurate moisture testing of the Rapid RH® 4.0 EX test method with the data protection of the award-winning Rapid RH® DataMaster™. For best concrete moisture testing practices and industry-compliant reporting, the Rapid RH® Starter Combo Pack will get your concrete flooring installations off on the right foot.
Start the New Year with a complete and portable concrete moisture testing kit for all your flooring jobs. Our proven and field-tested technology lets you make all your job site decisions backed by accurate and easy-to-read data. Learn more about the WFP200 at http://www.wagnermeters.com.