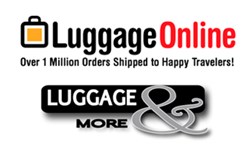 This represent's an excellent oportunity to considerably further our growth and share of the market in the luggage industry. This will also help aid our plans for nationwide expansion
MIAMI, FL (PRWEB) February 01, 2014
Luggage & More, the largest luggage retail chain in Florida has recently purchased LuggageOnline.com for an undisclosed amount. The web site Luggageonline.com was launched in 1998, and became # 493 of the top 500 web retailers in the USA, according to Top500Guide.com, with sales of $ 19,530,000 in 2012.
Since 2004, Luggage & More has had the privilege of providing the best satisfaction possible to its customers by catering to their needs and transforming the task of buying luggage into an easy and enjoyable experience. What started as a small kiosk, has turned into a successful luggage business with multiple locations in prestigious shopping malls, extending from Miami to Orlando.
For Luggage & More, based in Doral, Fl., the acquisition of the #2 luggage based e-tailer Luggage Online website gives the retail store chain access for further growth in a new category with online business of luggage, bags and leather goods. According to Jorge de Marchena, CEO of Luggage & More, "This represents an excellent opportunity to considerably further our growth and share of the market in the luggage industry. This will also helps aid our plans for nationwide expansion."
Luggage Online carries over 100 of the top luggage brands, including Rimowa, Tumi, Samsonite, Victorinox, Travelpro, Briggs & Riley and Delsey. The current selection features suitcases, luggage sets, carry ons, duffels, backpacks, briefcases, and much more. Luggage Online strongly believes your luggage is a reflection of the way you travel, your organizational skills, and your personal taste so it's important to make the right choice for all your travel needs. Luggage Online also always guarantees the lowest price on all the products they sell which gives them a competitive advantage over their competition. Luggage Online also offers their clients an excellent customer service experience by offering expedited processing and the expertise to answer any questions regarding Product Descriptions, Warranties, TSA Requirements, Repairs, Luggage Terms and any other questions the end consumers may have.
With the acquisition of the Luggageonline.com name, Luggage and More is strengthening its position as an industry leader in the rapidly growing travel goods category.