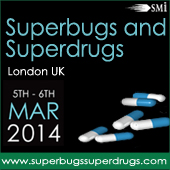 This is a unique opportunity to keep abreast of an 'old' field that is dramatically challenged and forced to adapt fast. - Michael Mourez, Sanofi R&DTSU Infectious Diseases
London, UK (PRWEB UK) 31 January 2014
The presentation entitled: Novel antiseptic polypeptide (Aspidasept®) targeting susceptible and resistant bacteria and their pathogenicity factors, will discuss:

Aspidasept
Sepsis
Endotoxin
MRSA
Lipoprotein
When speaking about his forthcoming presentation, Klaus commented, "It is reporting on the design and application of novel antibacterial drugs originally based on anti-lipopolysaccharide peptides. These are able to suppress the severe inflammation in vitro as well as in vivo induced by bacteria or their pathogenicity factors (PF), lipopolysaccharides (LPS, endotoxins) in the case of Gram-negative and lipoproteins/-peptides for Gram-positive bacteria. The main mechanism of action is the highly affine binding of the drugs to the PF, whether as constituent of the bacterial cell wall or in a free form. Thus, the emergence of resistance of the bacteria to various antibiotics does not affect the action, as exemplarily shown for MRSA. The development is in an advanced preclinical phase."
Superdrugs and Superdrugs 2014 will address the main challenges that pharmaceutical companies are currently facing in terms of funding, antimicrobial resistance, regulation, new technologies and global solutions.
Other key speakers will include:
Richard Bergström, Director General, EFPIA
Line Matthiessen, Head of Infectious Disease and Public Health Unit, European Commission
Joe Larsen, Branch Chief Broad Spectrum Antimicrobial Program, Biomedical Advanced Research and Development Authority (BARDA)
Richard Bax, Senior Partner, TranScrip Partners
James Anderson, European Partnerships Director, GSK
Ralph Minter, Fellow Antibody Discovery and Protein Engineering, MedImmune
Malcolm Page, Head of Biology, Basilea Pharmaceutica
Michael Mourez, Therapeutic Area Leader, Sanofi
Pierre Raboisson, Head of Medicinal Chemistry, Janssen Pharmaceutical Companies of Johnson and Johnson
Chris Longshaw, Associate Director for Microbiology, Astellas Pharma Europe
Chris Hoyle, Economist, Office for Health Economics
The conference brochure can be downloaded at: http://www.superbugssuperdrugs.com.
For those who are interested in registering there is currently a £200 discount code available online if you use discount code SMI7M6Z
Superbugs and Superdrugs
5th – 6th March 2014
Holiday Inn Regents Park, London UK
http://www.superbugssuperbugs.com