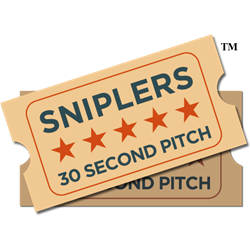 I wanted to let you know that the "snipler" teaser trailer you screened that year is now a feature film! We're very excited about it: we already have distributors chasing us. - Gregory Blair
Los Angeles CA (PRWEB) January 31, 2014
The Snipler – 30 Second Pitch online challenge from Indi and New Media Film Festival was announced during NATPE (National Association of TV & Programming Executives) and offers cash awards of $500, $100 and $50. All someone has to do is create an idea, capture it on a mobile or tablet and upload it to the site http://indi.com/t/8410D6B8. The top three voted Sniplers receive cash awards, and three Sniplers are chosen by judges to be screened at the 5th Annual New Media Film Festival in Los Angeles CA in June 2014.
Susan Johnston, Founder/Director of New Media Film Festival, was the first speaker in the pilot Navigator Program put on by the 51st Annual NATPE in Miami Fl. The mission of The NATPE Navigator Program is to establish current services and implement new initiatives to increase connectivity, maximize deal flow and generate revenue. It is at this pioneering session that the Snipler 30 Second Pitch Challenge was announced.
New Media Film Festival is an International Festival based in Los Angeles CA. The New Media Film Festival celebrates the ever-changing world of new media. Declared "worth the entry fee" by MovieMaker Magazine and hailed for making "the cutting edge accessible" by Huffington Post, New Media Film Festival accepts new media entries across a variety of categories.
The jury includes reps from Pixar, Fox and The Caucus, among others. A total of $45,000 USD in awards will be presented at the 5th Annual New Media Film Festival June 10th & 11th 2014. Join filmmakers from around the world, hear industry leaders, and network with distributors and investors. Submissions are accepted year round.
Indi is an online talent discovery destination that rewards passionate performers and video creators with cash awards based on votes from viewers and guest judges.