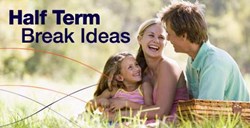 (PRWEB UK) 31 January 2014
Superbreak, the UK's leading short break provider, has revealed that city break destinations continue to remain most popular amongst customers taking February half term breaks this year.
Over the past three years, London, Edinburgh and Paris have topped the list of most popular destinations booked over the half term week, with the trend set to continue in 2014.
With February half term falling slightly later this year, the firm has seen an increase in demand for breaks between the 15th and 23rd February this year, with search traffic over the past four weeks to the Superbreak half term breaks page up by 51 per cent year-on-year.
In response to this, Superbreak has contracted a range of family orientated breaks, with many including complimentary children's breakfast at Holiday Inn hotels, kids go free tickets for key London attractions such as the View from the Shard, as well as a 20 per cent saving on Alton Towers Half Term breaks, which start from £89 for a family of four.
Superbreak has also launched a new London based promotion, which offers customers staying two nights in London this half term a complimentary 24 Hour Rover Ticket worth £17.95. The firm hopes this represents real value for money for families looking to take a break after the busy festive season.
In addition to its UK half term product offering, the Yorkshire based tour operator has a range of European Eurostar and flight inclusive city breaks, with many including three nights for the price of two on selected hotel stays until April 2014.
Over the past two years, Superbreak has continued to strengthen its partnerships with key attractions, accommodation and transport providers in these destinations. Customers can now choose from a variety of sightseeing tickets, dining options and flexible travel tickets including Eurostar and scheduled flights.
Khalid Amin, Online Marketing Manager at Superbreak, commented: "In preparation for the February half term, our contracting team has secured an excellent range of new hotel packages and offers. The half term holiday presents the perfect opportunity for families to get away for the first time since the busy festive season and, with a greater range of products available, Superbreak is offering something to suit all tastes and budgets."
About Superbreak:
Superbreak is the internet division of Superbreak Mini Holidays Limited, the market leader for weekend breaks throughout the UK and beyond. Superbreak is part of Holiday Break plc. Based in York, England, Superbreak specialises in booking city breaks in 2-5 star hotel accommodation throughout Britain for the leisure traveller. Superbreak also work with various travel providers offering a range of rail breaks, Eurostar Breaks to Paris, P&O mini cruise breaks, flights & more.
With 5000 plus hotel partners in worldwide locations from Manchester to Brighton, from London to Paris getaways and with great availability and rates for theatre breaks, events at the O2 Arena, Christmas Breaks, various popular attractions and national and international rail partners, Superbreak can offer an outstanding depth and breadth of UK and Overseas short break products.
Note to Editors:
We authorise the republication of this content with the condition that a link to Superbreak is included: http://www.superbreak.com.