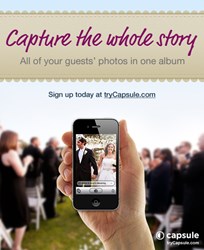 A custom code is a great way to personalize a capsule and can also be used as a hashtag to upload photos via Instagram.
Los Angeles, CA (PRWEB) January 31, 2014
Capsule, a private group and event-based sharing platform, has announced a major update to their mobile application that will revolutionize the digital experience of attending and memorializing a special occasion.
First and most exciting, is the complete overhaul to CapsuleCam for Android. The Android version of the app had been lagging iPhone, but this new release brings a fresh user interface, adds new features, and fixes known bugs. Most notable is the new home view, which features all of your capsules right up front, allowing quick access and easy navigation through multiple capsules as soon as you open the app.
Due to this new release, photo-sharing on CapsuleCam is now a more user-friendly experience with a revitalized layout and a host of new innovative features, making it easy to share, communicate, and consolidate all your photos and videos in one private space.
CEO and Co-founder, Cyrus Farudi is excited, "This is the first update of many! CapsuleCam for Android is now better than ever, but there is a lot more still to come. Stay tuned!"
Capsule also released an update for iPhone, which gives members the ability to customize a capsule's join code. A custom code is a great way to personalize a capsule and can also be used as a hashtag to upload photos via Instagram. This update is coming to Android soon.
Finally, on both Android and iPhone, Capsule has given members the ability to create a wedding capsule via mobile. In the past, the mobile experience for weddings was only partial, sending many members to the web (trycapsule.com) to finish their capsule, but with this great new feature members now have the ability to create, customize, and invite all from their mobile device. These new updates make CapsuleCam a very efficient wedding photo app.
CEO and Co-founder Cyrus Farudi said, "As our users increasingly turn to mobile, we are committed to providing the most fun, reliable, and capable app on the market. Groups look to Capsule to help plan, share, and remember their most meaningful adventures and we strive to stay ahead of the curve!"
About Capsule
Capsule (http://www.trycapsule.com) is the easiest way to capture every photo taken at an event. CapsuleCam, the mobile app for iPhone and Android, lets guests instantly add photos to a shared album. Users can interact, comment, order prints, download high-resolution copies and share to social networks directly from the album.
For more information, visit tryCapsule.com or find us on Facebook (facebook.com/tryCapsule), Pinterest (pinterest.com/tryCapsule) or Twitter (twitter.com/tryCapsule).