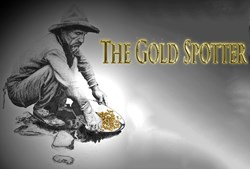 Having all this information in one website is tremendous! Being able to compare all these gold dealers side by side not only saves me money, which is obviously great, but it saves me time!
San Diego, CA (PRWEB) January 31, 2014
We are all aware of the current economic issues that are facing us as a nation as well as globally. Many financial experts have agreed that it is prudent to invest in physical gold as a form of wealth preservation or financial insurance. The problem is finding the right gold dealer to purchase your physical gold from. How does one know who is actually offering the best rate? It's a lot of work and research to find the gold dealers with the best prices. That is until now. The Gold Spotter presents TheGoldSpotter.com gold price comparison website.
TheGoldSpotter.com is a new website that takes a bulk of the work off your shoulders. Statistics are showing individual physical gold ownership is and has increased over the years as many investors are wising up to the game the Federal Reserve and other central banks are playing with the dollar.
Gold investors and/or those interested in buying physical gold have a reason to smile with the launch of TheGoldSpotter.com a website that will save you time and money!
http://www.TheGoldSpotter.com, is a new gold price comparison website that takes care of all the research and analysis of gold prices for investors and/or those looking to buy gold. With fluctuations experienced throughout the day, gold investors need a reliable source of information before making purchasing decisions. TheGoldSpotter.com is that source.
The concept is simple, TheGoldSpotter.com compares the prices of various the gold coins and bullion as sold by various gold dealers on one webpage so to allow a side by side comparison of over a dozen gold dealers across the country.
It would take someone hours to find and access each individual website, note the prices on the coins/bullion you desire, etc…Such work is exhaustive if one is to do it on their own, and TheGoldSpotter.com clearly comes to the rescue. This could go without saying, however, we all know that any investment must be done with careful thought and diligence, and TheGoldSpotter.com offers one the chance to perform their due diligence in part, in a fraction of the time.
"As an avid investor in gold I got tired of spending hours trying to find the best prices, writing down gold dealers' information, the website address, and the prices for each site, and then finally comparing them all. TheGoldspotter.com is the one stop site that does all this work for you, and also updates constantly to keep track of price fluctuations," says James G., an investor who's already happy with the results he achieved by using thegoldspotter.com.
There's no arguing that one of the best investments one can make is to buy gold, physical gold. However, to do this, one must have the right information before making any purchases.
TheGoldSpotter.com's ultimate goal is simply to help investors save money, time, energy and effort to assist those who know the value of owning gold by helping to find the right gold dealer with the right price. Like with any investment, there are risks associated with gold trading, as they say the more you know the more you grow.
TheGoldSpotter.com is a free to use site, and investors aren't charged for the information provided. The details for every individual dealer are shown in table format, click on the name of the particular coin and the table is sorted cheapest to most expensive, click the name twice and rearranges to show the most expensive down to the cheapest dealer for that specific coin. This is so very convenient.
With ever-fluctuating gold prices, a comparison site like TheGoldSpotter.com is a sure headache-reliever; it allows you to make good decisions based on regularly updated data. With TheGoldSpotter.com one will have more of an advantage for buying your gold coins and bullion being able to seeing the best rates of numerous dealers in one location, it's really that simple.
One benefit of trading in gold is that it is one of the few investments that inflation doesn't affect adversely. Gold is a good protection against inflation and the devaluing dollar, which makes gold popular with investors seeking to protect their savings, protect their retirement and protect their financial future. Gold's prices might fluctuate now and again, but overall, owning physical gold is a solid investment over time. With the information you get from TheGoldspotter.com, you are in a much better position when it comes to making a purchase decision.
Visit TheGoldSpotter.com today, and make use of the comprehensively researched gold prices to your advantage. Use the information gained to help you make your buying decision and be more comfortable knowing you have done your homework, with any investment, it pays to do your homework. Check out http://www.TheGoldSpotter.com, you'll be glad you did.