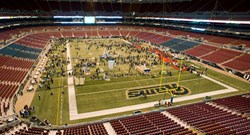 This is an incredible way to wrap up the year and be thankful. The look on the children's faces after visiting Santa and getting the autographs from the Rams players and Cheerleaders makes all the planning, time and effort priceless.
St. Louis, Missouri (PRWEB) February 11, 2014
Motion For Kids (formerly Project Angel Tree) is a party thrown by the St. Louis Rams and the St. Louis Bar Foundation, as well as several other organizations and countless individuals who volunteer their time and efforts. The 21st annual event took place in the Edward Jones Dome, in downtown St. Louis, Missouri, on December 14th, 2014. The event benefits over 4,000 children with parents in the Missouri legal system. The children have the opportunity to to meet St. Louis Rams players and cheerleaders, play games on the St. Louis Ram's field, have a holiday feast, as well as visit with Santa and receive their very own gift.
Heritage Exposition Services is a labor, equipment and furnishings sponsor in-kind for the event, helping to make the event special to all of the children attending. Heritage sets over 12,000 linear feet of 8' tall drape, tables and carpet in creating the perfect holiday scene. This is Heritage Exposition Services 12th year supporting the event.
Stay in touch and follow us on Twitter to find out how you can volunteer for next year's event.
Check out #MFK2013 for more information about the 21st annual event.