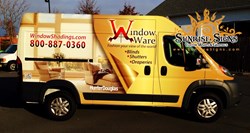 "You really can't go wrong when wrapping the ProMaster" -- Adam Sokoloff, president, Sunrise Signs
Philadelphia, PA (PRWEB) January 31, 2014
Sunrise Signs, a custom wraps and graphics company in Philadelphia, has dubbed the 2014 RAM ProMaster™ van tops for vehicle wrapping. The new spacious cargo van offer tons of canvas space to work with and its attractive lines are limitless as far as custom designs.
Available in three models, the 1500, 2500 and 3500, the ProMaster features a sleek European look. The RAM website boasts its "Step up, Walk in" feature. It is available in two roof heights – 90 or 101 inches – plenty of room for contractors and their tools and equipment…and plenty of room for exterior branding.
"It's quite a vehicle. Its height and sleek lines give us great flexibility to brand it with graphics," says Adam Sokoloff, president of Sunrise Signs. "It's been awhile since we've selected a van as the best vehicle to wrap so that says something about the ProMaster."
Sokoloff was so impressed with the vehicle he created a list of ideas for various industries and contractors who use it. "25 Branding Ideas for the RAM ProMaster" is available at the Sunrise Signs website. Among the options the ProMaster can readily accommodate:

Local branding for franchisees
Touting 24/7 emergency plumbing, electrical or handyman services
Shouting out about your green initiatives
Offering passersby a menu of your company's services
"Many of our Sprinter customers have been looking to replace their vehicles, but have been waiting for the ProMasters to arrive," says Byan Lasater, marking manager of Cherry Hill Dodge-Chrysler-Jeep-RAM, of the ProMaster. "The initial feedback we are receiving from those customers is they are glad they waited, as the ProMaster really is everything they hoped it would be."
The ProMaster is proving particularly popular with roofers, electricians, home remodeling services and delivery companies in Philadelphia, New Jersey and Delaware, notes Sokoloff. "We're seeing a lot of these businesses eager to wrap their vehicles."
The ProMaster is also very affordable, starting at $28,640. For businesses that rely on work trucks as their office and all-in-one parts department, the available shelving options make that possible. Ninety degree vertical walls make it easy to stack, carry and load boxes and stabilizes any cargo.
According to a Chrysler press release, "the 2014 ProMaster is available in two roof heights, three wheelbases, and four body lengths. Additionally, the ProMaster offers both a chassis cab and cutaway from the factory. Its unibody frame architecture makes it significantly lighter than the competition. As a result, the ProMaster boasts an impressive best-in-class payload capacity up to 5,145 pounds and a maximum towing capacity up to 5,100 pounds. The gross combined weight rating (GCWR) for the 3.6-liter V-6 is 11,500 pounds and 12,500 pounds for the 3.0-liter I-4 EcoDiesel. A unibody structure has additional advantages, including stability and strength from front to rear, a reinforced plenum area for optimized engine packaging, and 'truer' tuning of chassis systems and related hardware when compared to more common body-on-frame applications."
The ProMaster lends itself well to the many elements of a wrap, including myriad graphics, slogans, mottos and more. All appear crisp and sharp on these vans, and Sunrise's in-house graphic design team can help new contractors create the perfect logo.
"You really can't go wrong when wrapping the ProMaster," says Sokoloff. "We've got a wrap or lettering package for every budget. We also expect this to be a popular fleet vehicle and we're proud to be a nationwide vehicle wrap provider, meaning no matter where you are in the U.S, we can design your graphics, print them and ship them to one of our trusted installers."
Sunrise Signs is a nationwide commercial vehicle graphics and wraps provider. It offers customizable vehicle graphics and wrapping options, including full body van wraps, partial wraps, vehicle vinyl lettering or a combination of the latter two. For more information, call 855-USA-WRAPS or visit http://www.SunriseSigns.com. Those interested in RAM ProMaster van wraps are encouraged to download Sunrise Signs' Vehicle Wrap Information Kit.