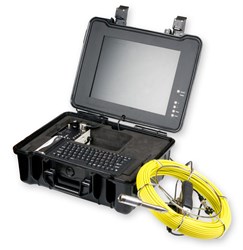 SeaSnake Inspection System does not only offer operators intuitive navigation experience, but also ease of use in viewing, recording and documenting the inspection data. A great user-friendly device for this price
(PRWEB) February 03, 2014
Fiberscope.net, one of North America's leading online suppliers of NDT equipment, is proud to announce a new product in their line of inspection devices – SeaSnake Inspection System.
The SeaSnake Inspection System is a light, portable, versatile device that provides users with easy access to the most unreachable spots. With control unit contained in a lightweight waterproof case and a waterproof fiberglass probe coiled on a portable reel, the camera takes up very little space and can travel with the operator virtually anywhere, offering greater flexibility and efficiency at different inspection sights.
The Camera features high-resolution CCD image sensor, protected by a Sapphire lens to resist scratching when working in rough environments and avoid image quality impairment in the long run. The sensor is mounted on a straight-view camera head, which is also equipped with 12 adjustable LED lights and a flexible spring coiled joint for smooth navigation. All these elements contribute to high quality images and easy and intuitive operation.
For the camera of its class and size, the SeaSnake features quite an extra large 15" high-definition color TFT monitor, which allows users to view inspection findings in greater details. The information can also be saved to an SD memory card or transferred to a bigger display through a video jack. The inspection camera system is equipped with a soft, splash proof keyboard that allows for entering up to 4 pages of inspection comments and a microphone to record audio files during or after inspections.
The Camera operates on a rechargeable LI-ion battery offering up to 4 hours of uninterrupted inspections.
"SeaSnake Inspection System does not only offer operators intuitive navigation experience, but also ease of use in viewing, recording and documenting the inspection data. A great user-friendly device for this price" – Terry Peristerakis, Medit Inc. Sales manager at Fiberscope.net.
Fiberscope.net is one of the acknowledged leaders among online suppliers of NDT equipment. Successfully working in professional and consumer markets locally and internationally, the company is developing fast and is committed to providing its clients with the latest and optimal solutions in remote visual inspections. Its portfolio as of today includes: rigid and flexible videoscopes, pipe cameras, as well as a full line of imaging accessories.