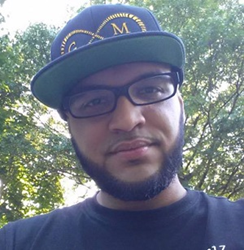 New York, NY (PRWEB) February 03, 2014
Mubeen Sarwar's father brought him to the United States so that he could seek a better life. Mubeen is committed to making his father's dream come through by becoming a professional in the field of information technology. The Sarder Scholarship created by Russell Sarder, CEO of NetCom Learning is offered on a monthly basis and provides $2500 in IT training courses to worthy individuals. In his application for the scholarship, Mubeen wrote about how much the scholarship would mean to him including being able to undertake coursework toward certification in CompTIA A+ and Network+, but also in being able to put a smile on his father's face as his son start's on his chosen career path. The Sarder Scholarship can be used toward most live online classes or traditional classroom training and represents Russell Sarder's dedication to promoting education as a way to change a life.
"Mubeen Sarwar has demonstrated his ambition to succeed and to bring honor to his family,"said Russell Sarder, CEO of NetCom Learning.
"It is clear that with his hard work and dedication to learning, Mubeen will be successful in life and NetCom Learning is very pleased to be able to assist Mubeen as he starts his career in the growing field of information technology," said Sarder
Mubeen Sarwar is the first individual in his family to attend college. He already holds an Associate degree in Business Administration from Kingsborough Community College and is currently working on obtaining his bachelor's degree in business and human resources. His first love though, has always been computers. As a young child he constantly changed things out on his computer and worked to improve the speed and efficiency of the family computer. His goal is to become an expert in the field of information technology as a Network Engineer or Information System Manager and to continue his education. "Knowledge is Power," is Mubeen's mantra and in his words, "education is something no one can take away from you."
The Sarder Scholarship is open to individuals of any background or skill level and can be used for any of the IT industry courses NetCom Learning provides. To find out more about the Sarder Scholarship visit http://www.netcomlearning.com/scholarship/sarder-scholarship.phtml
About the Sarder Scholarship
The Russell Sarder Scholarship is open to individuals of any background or skill level and can be used toward any NetCom IT industry course. Named after its benefactor, Russell Sarder, NetCom Learning's Sarder Scholarship are $2,500 scholarships given monthly to an individual seeking to start or advance a career in the IT industry. For more information on the Sarder Scholarship, visit http://www.netcomlearning.com/scholarship/sarder-scholarship.phtml
About NetCom Learning
NetCom Learning is an innovative leader in IT, business and executive training to companies, individuals, and government agencies. Since its inception in 1998, NetCom Learning has trained over 80 percent of the Fortune 100, serviced over 45,500 business customers, and advanced the skills of more than 71,000 professionals through hands-on, expert-led training, with the organization maintaining an average instructor evaluation score of 8.6 out of 9. NetCom Learning was recognized by Microsoft Corporation as its Worldwide Training Partner of the Year and named twice to Inc. Magazine's list of fastest growing private companies in America. The organization was also recently named to the 2011 IT Training Companies Watch List by TrainingIndustry.com and was named "Company of the Year" by the American Business Awards. The purpose of NetCom Learning is to promote the values of lifelong learning.