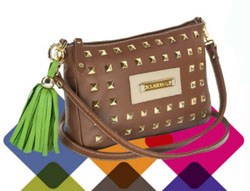 Love what you do - start and grow your own business in style!
Houston, TX (PRWEB) January 31, 2014
ClaudiaG Collection is proud to announce that they have recently launched as a brand new social selling business through their ecommerce website.
"We are in business to make a difference in meaningful ways and to offer a rewarding opportunity to enthusiastic entrepreneurs ready to share a fantastic product," said Claudia Gutierrez, founder and president of ClaudiaG Collection.
ClaudiaG Collection offers a line of timeless and fashionable handbags and accessories that combine a sophisticated, sleek and modern design aesthetic with the finest materials and unique textures. Designed in the U.S. and individually handcrafted, the collection offers a luxurious and personal style to each of its products with impeccable attention to detail and beautifully-mixed textures of genuine leather and trend-setting fabrics complemented by rich hues and signature hardware.
ClaudiaG is a business of social interaction and sharing, where women have the power to turn opportunities into dreams come true as a business with flexible hours and schedules. Women interested in becoming independent consultants, starting their own business from home and loving what they do should contact ClaudiaG today. For more information, visit their website at http://www.claudiagcollection.com/.
About the company:
ClaudiaG is a brand of boutique-style, beautifully-handcrafted and sophisticated handbags, versatile accessories and on-trend jewelry. ClaudiaG offers its remarkable products exclusively through a growing network of trained independent consultants in the United States who earn sales commissions by selling at private in-home trunk shows, fundraising events and online. The ClaudiaG social selling model provides opportunities for personal growth and financial independence, while building a sustainable means to give back to the community. ClaudiaG strives to always provide high-quality products and superior service. Customers can always rest assured that a product from ClaudiaG will be stylish, well-made and affordable. To learn more about the brand, visit their website at http://www.claudiagcollection.com/.