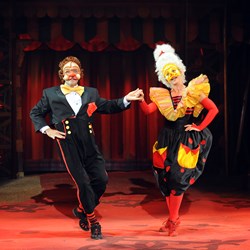 New Brunswick, NJ (PRWEB) January 31, 2014
State Theatre presents the 8th annual Family Day on Monday, February 17, featuring performances of Hub City Spectacular by Big Apple Circus at 10:30am, 1pm, and 3:30pm. February 17 is Family Day at the State Theatre, part of the State Theatre's Hub City Carnivale, a winter festival featuring four weeks of performances, participatory activities, social events, and special attractions for all ages.
The world-class Big Apple Circus soars to new heights in their newest show Hub City Spectacular produced especially for the State Theatre stage. The Big Apple's cast of characters will include balancing acts, clown sketches, performing pups, and more
Presidents Day is Family Day at the State Theatre
Families can spend the school-day holiday enjoying dozens of performances, workshops, and hands-on activities—many of them free—plus costumed characters, Turtle Back Zoo: "Amazing Animal Adaptations," face painting, balloon animals, a photo booth, fire trucks from the New Brunswick Fire Department, the Colgate "Bright Smiles, Bright Futures" mobile dental van, a live DJ, food, and more. The festival, which runs from 10am to 4pm, features multiple venues: the State Theatre, George Street Playhouse, Crossroads Theatre, United Methodist Church, and the popular Hub City Big Top, an enormous tent set up in front of the State Theatre. In addition, the State Theatre will be holding a food drive to benefit the Elijah's Promise food pantry in New Brunswick. Those attending Family Day can help by bringing in non-perishable food items such as pasta, dried spices, rice, and beans.
The featured Family Day events include performances of Hub City Spectacular by Big Apple Circus at 10:30am, 1pm, and 3:30pm at the State Theatre. Additionally, there will be free performances in Crossroads Theatre including Gustafer Yellowgold, a multi-media performance of live music, animated illustrations, and storytelling (12pm, 3pm); an interactive "Meet the Percussion" program by Princeton Symphony Orchestra (11am and 1pm); and performances by the New Jersey Tap Dance Ensemble (10am and 2pm).
A variety of hands-on workshops take place throughout the day, including "Hand-in-Hand" (10:30am), "Hip-Hop Dance" (12pm), and "Intro to Ballet" (1:30pm), led by American Repertory Ballet; "Make and Take: Clown Hat" (10am), "Make and Take: Paper Plate Banjo" (12:30pm), and "Make and Take: Paper Bag Puppet" (2pm); "Making Character Masks" (10:30am), "Theatre Games" (12pm), and "Intro to Improv" (1:30pm) led by George Street Playhouse. Registration for all workshops is $6 and can be purchased at the door or in advance by calling 732-246-SHOW (7469), ext. 545.
Big Apple Circus
Conceived and founded by Paul Binder to be a leading presenter of live family entertainment and a not-for-profit performing arts institution, the Big Apple Circus' nation-wide performances and community programs have made their 34-year history far-reaching and full. It all began in Kent, England, in 1974, when American entertainers Paul Binder and Big Apple Circus co-founder Michael Christensen became juggling partners and took to the street corners of Europe. Their comedic juggling act was a hit, and they soon found themselves on the stage of the prestigious Nouveau Cirque de Paris. They returned home to America in 1976 with a vision: to entertain and improve the lives of millions. One year later, they found a site for the first tent-raising in Battery Park, New York, and went on to create the award-winning, not-for-profit Big Apple Circus.
For tickets or more information, call the State Theatre ticket office at 732-246-SHOW (7469), or visit us online at http://www.StateTheatreNJ.org. The State Theatre ticket office, located at 15 Livingston Ave, New Brunswick NJ, is open Monday, Tuesday, Thursday, Friday, 10am to 6pm; Wednesday 11am to 7pm; Saturday, 1pm to 5pm; and at least three hours prior to curtain on performance dates, unless otherwise specified. For information on group outings and discounts, call 732-247-7200, ext. 517. Some additional ticket and transaction fees may apply.
State Theatre, a premier nonprofit venue for the performing arts and entertainment. The theater exists to enrich people's lives, contribute to a vital urban environment, and build future audiences by presenting the finest performing artists and entertainers and fostering lifetime appreciation for the performing arts through education. The State Theatre's programs are made possible, in part, by funding from the New Jersey State Council on the Arts/Department of State, a Partner Agency of the National Endowment for the Arts, and contributions from numerous corporations, foundations, and individuals. The Heldrich is the official hotel of the State Theatre. Magic 98.3 is the official radio station of the State Theatre. The Star-Ledger is the official newspaper of the State Theatre. United is the official airline of the State Theatre.
STATE THEATRE
15 Livingston Ave
New Brunswick, NJ 08901
Ticket Office - 732-246-SHOW (7469)
Online - http://www.StateTheatreNJ.org
PHOTOS AND INTERVIEWS FURNISHED UPON REQUEST
Please contact Kelly Blithe at
732-247-7200, ext. 542 or by email at kblithe (at) StateTheatreNJ (dot) org.
Up-to-the-minute information on events and State Theatre news, online at http://www.StateTheatreNJ.org.
###