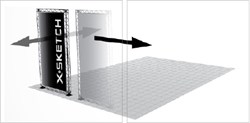 Exhibition Stand Design Software - the new tool from 200m2
(PRWEB UK) 31 January 2014
200m2 Exhibition Stands, one of the UK's leading exhibition stand companies has launched a new online exhibition stand design tool called X-Sketch which has been designed to help organisations plan and organise their exhibition programmes. X-Sketch allows companies who make a significant investment in exhibitions and trade shows to design and mock-up multiple exhibition stand concepts.
X-Sketch is a step-by-step 3D rendering programme and arguably the easiest to use piece of software currently available. X-Sketch allows organisations to build their own designs and concepts extremely quickly. At the same time, the tool provides answers and guidelines for measurements, available parts and span specifications. Just like all X-Module products from 200m2, X-Sketch is extremely intuitive and easy to use.
In addition to a web based version, there is also an application which can be downloaded for either Windows or OSX (Apple). With the downloaded version, users can add their own images to the display panels and even print off sketches locally! Simply download and extract the .ZIP file and install within seconds.
Tim Cronin, 200m2's Managing Director explained "Our goal was to bring an easy to use exhibition stand design tool to the exhibition sector, one that was easier to use than the current tools available today. Given our solutions are modular, the framework which makes up the exhibition stand structure can be re-deployed time and time again. This gives our customers total flexibility when it comes to stand design. They can refresh their messages and display panels for every exhibition. X-Sketch further improves the flexibility of the modular concept as it quickly gives brand manages the tools they need to visualise the impact of their latest stand design."
Tim concluded "X-Sketch is a massive step forward in exhibition stand design. What's more it is FREE to use and download. I think when people see how easy our trussing solutions are to configure, they will be really impressed. Fast to put up and break down, our modular exhibition stands can be put up in a fraction of the time most modular stands require for set up. Extremely strong and lightweight, our solutions are also fully weatherproof and can be deployed outdoors without any risk of degradation. Why not hire an exhibition stand for your next show and see how easy they are to use before deciding to invest!"
For more on X-Sketch visit:
http://200m2-exhibition-stands.co.uk/exhibition-stand-design-software-tool/.
-Ends-
About 200m2 Exhibition Stands
From stand design and stand fitting, to exhibition management and event PR, 200m2 is a leading UK provider of exhibition services. Whatever your requirements, from small modular stands to large 200m2 exhibition stands, we provide specialist exhibition services on a global scale.
Uniquely, 200m2 is the only authorised UK partner of TRUSSwire and CROSSwire, a highly flexible and scalable exhibition system which is extremely lightweight yet durable. 200m2 can also manage your exhibition printing needs by producing artwork which simply clips into place between the framework. Whatever your needs, from stand hire to an all-inclusive service, 200m2 delivers solutions which mitigate risk and reduce costs. For more information, visit http://www.200m2-exhibition-stands.co.uk.
Media Enquiries to:
Tim Cronin
Managing Director
200m2 Exhibition Stands
M: 07899 966 795
T: 020 333 200 92