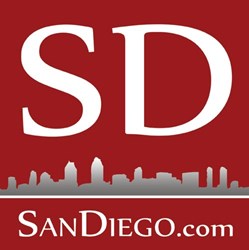 San Diego has some of the most amazingly beautiful beaches and scenery and we're lucky to have hotels in every region with breathtaking views of these beaches.
San Diego, CA (PRWEB) January 31, 2014
San Diego sure does have some of the best views around, especially if you are lucky enough to have a beautiful ocean view of one of the famous beaches. There are many hotels located around San Diego that boast a view to die for, and SanDiego.com has released the top 5. "San Diego has some of the most amazingly beautiful beaches and scenery and we're lucky to have hotels in every region with breathtaking views of these beaches," says Erica James, editor at SanDiego.com.
Here is the list of the top 5 hotels with a view in San Diego:
1. Hilton San Diego Resort and Spa - Located on the beautiful bay front of Mission Bay, the Hilton San Diego Resort and Spa is the perfect place to bask in the sun and have some fun. Step out onto one of the personal patios that each room has and enjoy the views privately. During the summer time the pool is the place to be; with palms throughout and comfortable lounge chairs to relax and enjoy the sun, it doesn't get any better than that!
2. Carlsbad Seapointe Resort - A great deal with breathtaking ocean views, the hotel is located right across the 101 highway from the Ocean, offering guests condominium-like stay with one or two bedroom accommodations. Relax and rejuvenate and enjoy the breathtaking views from anywhere in the resort.
3. La Jolla Shores Hotel - Step right outside the hotel and into the sand of the beautiful La Jolla Shores beach, where you can enjoy a stroll or a beach day. Because of the great location guests can enjoy the best views from right inside their room. The hotel is just a few minutes from La Jolla Village, a popular destination with the best dining, shopping, art galleries and more. If you don't feel like leaving the hotel they also have two on site restaurants to enjoy. The Shores is open for breakfast, lunch, and dinner and often times has live entertainment all while taking in the views right from your table. The Marine Room is the La Jolla Shores fine dining restaurant, and has won many awards for their delicious food.
4. L'Auberge Del Mar - This beautiful luxury resort is ranked among the "Best Luxury Resorts" in the country by Conde Nast and also on the Conde Nast gold list. Looking out over the Pacific Ocean in Del Mar guests can enjoy stunning views, sunsets, the onsite spa, dining options, and a private footpath down to the beach. Located right in the heart of Del Mar with shopping, dining, and entertainment. During the summer be sure and head to the world famous Del Mar Race track right down the street, and don't forget to wear a hat.
And #5 is not actually a hotel; it's a vacation rental company that offers an alternative to a nice hotel -- the beach rental with a view.
5.Blue Water Vacation Rentals - With multiple properties throughout San Diego visitors can pick the view that they want. There are plenty of rentals that are beachfront at the different beaches throughout San Diego. A vacation rental company like Blue Water Vacation Rentals may have hundreds of options to select from and can often help with planning out an itinerary, stock your fridge and even find a babysitter for the kids! Tourists tend to feel and live more like a local when they stay at a rental home or condo. The price may also work out better too as many homes can fit multiple families or at least a big family plus a few extra tagalongs.
SanDiego.com is one of San Diego's oldest and busiest travel and tourism websites, known as the local authority for all things San Diego. The author of this article, Erica James, is a native San Diegan who truly believes that there is no place more fun and exciting than beautiful San Diego.