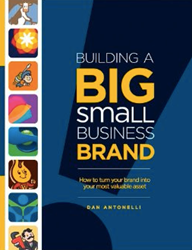 "Success in spite of a poor identity is not a valid reason to perpetuate it." - Dan Antonelli, Building a Big Small Business Brand
Washington, NJ (PRWEB) February 01, 2014
When it comes to naming your business, owners and entrepreneurs need to exercise discretion. A great deal of thought and market knowledge should be used to discern the very best choice. But while naming a business is no easy task, there are certainly ways to not go about it. A mortal sin of naming a business lies in using initials.
Maybe they belong to the owner or maybe they are the composite of all founders involved. Nevertheless, using initials within your company name is a surefire way to waste a big opportunity.
In the business world, reputation is everything. So too is it important for the brand to be appropriate and memorable in its design if it is to be successful. Utilizing initials in the brand's name makes it harder for customers to remember and difficult for prospects to be enticed. A major practice of service-oriented small businesses, using initials is a very easy misstep to make.
Dan Antonelli, creative director and president of Graphic D-Signs, Inc., makes it clear how bad this path is and how it can be avoided in his latest book, "Building a Big Small Business Brand."
For businesses already guilty of this poor choice, there still exists the opportunity to reclaim lost market share and even surpass their current marks. By implementing a successful rebranding effort, small businesses can drop the initials and pick up a much more passionate clientele. Even if businesses find that they are doing well, there still exists a tremendous opportunity for building up their business through branding. As noted by Dan in his book, "Success in spite of a poor identity is not a valid reason to perpetuate it."
Dan's agency, Graphic D-Signs, Inc., was founded over 18 years ago with the mission of helping small business owners nationwide recognize their true potential through branding. Since being founded, the agency has helped to build over 700 individual brands and has become a full-service agency, offering logo, website, print and digital design and development.