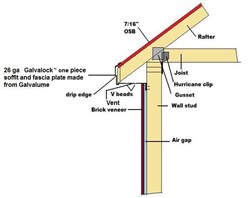 Using this very unique design will add needed strength to the roof and provide that extra protection to weather abused structures.
Duncanville, Texas (PRWEB) February 02, 2014
Never replace soffit and fascia again and no more risk of deck lift.
Galvalock is a one piece steel soffit/fascia panel that could actually save a roof during a hurricane, tornado or extreme wind event. This patented panel made of 26 gauge galvalume steel, actually fastens to the sidewall studs of a structure and the rafters on the roof to protect the decking from deck lift due to strong and straight-line winds. Using this very unique design will add needed strength to the roof and provide that extra protection to weather abused structures.
The Galvalock panels are manufactured to exacting standards and are shaped to fit the profile of any structure. The panels have a roof nailer that extends six inches over the decking and is covered by the roofing material – any roofing material. It forms the fascia and soffit areas and then finally is nailed into the studs of the outside walls. This one piece design makes it virtually impossible for wind to get under the deck and lift it off of the structure. Builders will appreciate the quick and easy install that requires half the time and labor of a traditionally built soffit and fascia.
Not only does the Galvalock panel by Fas-Fit Trim Supply protect the roof decking from wind but it may in fact help protect homes or businesses from exterior fire access. In most cases, embers from exterior fires gain access to the attic through the traditional, flimsy soffit vents. By its design, the Galvalock panel has a vent in the soffit area that is called a micro vent and it is actually part of the manufacturing, not added after the fact. This eliminates the possibility of those vents being extracted thru strong wind events subjecting homes or businesses to the elements and the rodents. These small openings also make it very hard for burning embers to gain entry to the attic area and set fire to the structure. Galvalock, when installed with a metal roof, brick facade and Low E windows will give homes or businesses that extra layer of protection from access by exterior fires.
Trying to lower ecological footprints is important for this company and Galvalock is a very green product. These panels are made from 100% recycled materials and are 100% recyclable at the end of their very long life of up to 100 years. In addition, Galvalock is maintenance free; no more rotting wood to replace over and over which is unsightly and expensive. And finally, Galvalock, in conjunction with a metal roof, can lower personal power usage.
Fas-Fit Trim Supply, LLC will begin producing the Galvalock panels in early February. The panels will be available to builders, suppliers, roofers and remodelers throughout Texas as early as March.
"Galvalock" your roof today!