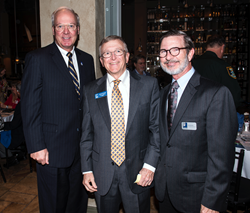 Quite frankly, I don't know of any other organization that does as much for veterans. You are truly setting the standard for communities around the nation to support veterans across America.
Sarasota, Florida (PRWEB) January 31, 2014
Goodwill Manasota's Legacy Luncheon, held last week, featured retired General Craig McKinley, Former Chief of the National Guard Bureau and Member of the Joint Chiefs of Staff. McKinley recognized the important work Goodwill Manasota does within its Veterans and their Families Initiative.
"Quite frankly, I don't know of any other organization that does as much for veterans," said General Craig McKinley. "You are truly setting the standard for communities around the nation to support veterans across America. It's about giving something back to the people and the community and the nation that's given so much to us, and I really can't thank you enough for that."
The American Veterans & their Families Initiative, founded in January 2013, was built around helping military members reintegrate into the community by utilizing a network of community partners to maximize local resources and services, and ease our veterans' transition back into non-military employment and life.
"Our mission is: Changing lives through the power of work. We really do believe work is the foundation for changing your life, and giving you a platform to build on," said Bob Rosinsky, president and CEO of Goodwill Manasota. "Our entire mission for our veterans program is to find those veterans who really want to help themselves, and we'll do whatever is in our power to help them--nothing is off limits. Countless brave men and women serving in the American Armed Forces, along with their families, make enormous sacrifices, both during and after their service to our nation. That is why we are committed to making things better for our troops through our work at Goodwill," said Rosinsky.
Here is a glimpse of the 2013 Goodwill Manasota veterans' program impact:

Numbers Served: 329 veterans through 602 different services. The top four services that veterans requested assistance with were employment, financial assistance, veteran health and benefits, and housing. These four categories make up more than 70% of the services requested.
Veterans & their Families jobs & services fair: Organized a job fair that was attended by more than 200 veterans and featured more than 160 employers and service organizations.
Veterans Resource Guide: Goodwill Manasota published this guide that lists and describes veterans' resources available within the VA and in the local community. The purpose of this free guide is to assist returning veterans with simplifying their transition process by providing information right at their fingertips. There more than 20 categories listed alphabetically by topic from employment to healthcare, housing, and veteran service organizations. The guide can be downloaded from the Goodwill website.
Veterans Task Force: Like any successful program, Goodwill also established a Veterans Task Force, which is a board of revered veterans in the area whose mission is to provide community-supported solutions.
Benefits: Received designation that enables us to assist veterans with benefits, claims, disability, pensions, education and anything else on both the federal and state level. This will allow Goodwill to interface with the U.S. Department of Veteran Affairs, advise veterans on the claim process, check on claim status and act as legal representative for veterans and more.
Award: Florida Veterans for Common Sense presented the annual Thomas Paine award to Bob Rosinsky, president and CEO of Goodwill Manasota. This prestigious award is presented to a deserving person who has made an outstanding effort to assist veterans and has made a positive contribution to our communities, state, and nation.
"This is one of the largest groups of veterans returning home and there is a greater need for more services," said McKinley. "I compliment groups like Goodwill, who have stepped up to fill those gaps for services required."
About General (Retired) Craig McKinley:
General Craig Richard McKinley, United States Air Force, served as the 26th Chief, National Guard Bureau from 2008 to 2012. He was the first officer from the National Guard to ever achieve the grade of a four-star general. After 38 years in the Air Force, McKinley retired as a four-star general in November 2012. His last assignment was as the Chief of the National Guard Bureau, where he also served as a member of the Joint Chiefs of Staff. In this capacity, he was a military adviser to the President, the Secretary of Defense, the National Security Council and was the Department of Defense's official channel of communication to the Governors and to State Adjutants General on all matters pertaining to the National Guard, in addition to a long list of assignments and military decorations.
About Goodwill Manasota:
Goodwill Manasota is an industry-leading, 501(c)(3), not-for-profit organization that changes lives through the power of work. We accomplish our mission through a network of Good Neighbor Centers in Sarasota, Manatee, Hardee and DeSoto counties and our Mission Development Services (MDS) around North America. For more than 110 years, Goodwill has provided opportunities through such programs as Donated Goods Employment Services, Job Connection, American Veterans & their Families Initiative, JobsPlus, Supported JobsPlus, GoodwillWorks, HomeBuyer's Club, Mission Development Services, White Glove Services, Good Neighbor Program and Ambassadors Program. Goodwill continues to assist people with disabilities and barriers to opportunity by changing lives through the power of work. Goodwill Manasota, Inc. is legally organized under the laws of the United States and the State of Florida. We are accountable to a local Board of Directors. Goodwill Manasota in essence belongs to this community, and is NOT owned by any individual or company. For more information, visit EXPERIENCEGOODWILL.ORG.