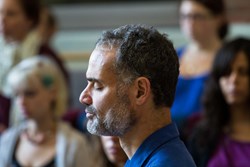 If you want freedom from self-imposed rules, expectations, and limitations, mindfulness can help to release you from these anxiety-producing forces.
Stockbridge, MA (PRWEB) February 03, 2014
Perfectionism can be a limiting force in one's life. When individuals are not mindful of its effects, it can keep one feeling stuck, disappointed, and frustrated. For those who have trouble getting out of their own way and want more from self-imposed rules, expectations, and limitations, Dr. Arnie Kozak will be leading a retreat at Kripalu Center for Yoga and Health on March 2-7, 2014 entitled "Mindfulness A-Z: Getting Unstuck from Regret, Perfectionism, and Procrastination."
A February 3, 2014 Time magazine cover story revealed "if distraction is the pre-eminent condition of our age, then mindfulness, in the eyes of its enthusiasts, is the most logical response." Long before it became popular, Dr. Kozak turned to mindfulness using tools such as meditation to treat a number of problems from depression to eating disorders to relieving anxiety. Today, more and more therapists believe mindfulness works by helping people to accept their experiences—including painful emotions—rather than react to them with aversion and avoidance.
According to Dr. Kozak, mindfulness has the power to release individuals from anxiety-producing forces that give rise to pervasive dissatisfaction and anguish. At the Kripalu retreat this March, Dr. Kozak will combine mindfulness meditation and Buddhist psychology with a narrative creative process called "Story Art" to teach individuals how to release self-inflicted obstacles. In this program, attendees will:

Learn basic mindfulness skills through formal and informal meditation practices;
Uncover the hidden rules and expectations that lead to frustration and unhappiness;
Transcend the harsh internal critic, restlessness, impatience, boredom, and distractibility; and
Gain a working knowledge of Buddhist psychology and the neuroscience behind it.
This life-changing program uses mindful self-exploration, humor, discussion, and the creative process to disarm painful and limiting stories. To register for the retreat, please visit: kripalu.org.
About Dr. Arnie Kozak
Dr. Kozak, is a licensed psychologist, clinical assistant professor in psychiatry at the University of Vermont College of Medicine, and faculty member at the Barre Center for Buddhist Studies. He is also the author of The Everything Guide to the Introvert Edge, Wild Chickens and Petty Tyrants: 108 Metaphors for Mindfulness and The Everything Buddhism Book (2nd edition). Visit http://www.exquisitemind.com.