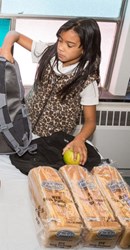 Albany, NY (PRWEB) February 03, 2014
Through the generosity of nearly 100 individuals, businesses, and organizations, hundreds of local children will continue to receive backpacks filled with nutritious food to take home over the weekend.
The 2013 CDPHP® Holiday Appeal raised $30,811 for the Regional Food Bank of Northeastern New York's BackPack Program, which provides easy-to-prepare foods to children in need in grades K-6. The program serves 1,000 children in 42 schools across 14 New York counties.
"We are proud to support this important program since food insecurity and hunger can have a major impact on a child's health," said John D. Bennett, MD, president and CEO, CDPHP. "We are truly thankful for the generous donations and for the Regional Food Bank's efforts to help those in need."
"Once again, we thank CDPHP for sponsoring the CDPHP Holiday Appeal and all of the individuals, businesses, and organizations that contributed to make it such a great success," said Mark Quandt, executive director of the Regional Food Bank. "Hundreds of children at risk of hunger will be fed nourishing meals every weekend during the school year because of CDPHP's sponsorship of this wonderful annual appeal."
Organizations that supported the 2013 CDPHP Holiday Appeal include:
Adirondack Cabling
Anchor Agency and its Employees
Barton & Loguidice, P.C.
CapBen Consulting
CapitalCare Medical Group
German American Club of Albany
Senior Shepherds of Good Shepherd Lutheran Church
NYS Teachers Retirement System
Rowlands & Barranca Agency
Siena College Friary
Ted's Floor Covering
About CDPHP®
Established in 1984, CDPHP is a physician-founded, member-focused and community-based not-for-profit health plan that offers high-quality affordable health insurance plans to members in 24 counties throughout New York. CDPHP is also on Facebook, Twitter, LinkedIn and Pinterest.
About the Regional Food Bank of Northeastern New York
The Regional Food Bank has been helping to feed the poor and hungry in our communities since 1982. It is the only organization of its kind in northeastern New York. The Food Bank collects large donations of food from the food industry and distributes it to charitable agencies serving hungry and disadvantaged people in 23 counties.