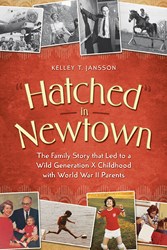 I focused on the funny stories that the family laughed about so often at the dinner table.
Sandy Hook, CT (PRWEB) February 04, 2014
Center Chimney Publishing has announced the availability of the first book by author Kelley T. Jansson, titled "Hatched in Newtown: The Family Story that Led to a Wild Generation X Childhood with World War II Parents." It is a humorous memoir of the author's childhood years in Newtown, Connecticut, as well as the backstory of her parents from the World War II generation. The book is available at Amazon.com, Barnes & Noble, and Ingram.
What does a devoted daughter give her elderly parents as a Christmas gift? Jansson penned her funniest childhood stories for that 2011 holiday and delivered a near-finished draft to her mother, a retired English teacher, with instructions to "please proofread your gift." Mother and daughter relived the family's comic moments as red ink collected in the margins of the manuscript. Less than eight weeks later, the author's mother died. Jansson dedicated herself to publishing the stories as a tribute to her mother.
"I focused on the funny stories that the family laughed about so often at the dinner table," said Jansson. With tales that include school, chores, animals, relatives, travels, and a really old house, Jansson hopes that readers will laugh along with her family. One of the highlights is the political battle that mother and daughter fought to establish the first varsity girls' soccer team at Newtown High School in Sandy Hook, Connecticut, for the fall season of 1984. "It was a Title IX victory," said Jansson. "My mother, although severely hearing impaired, was never shy about fighting for a political cause that served the community's needs. She taught me how to raise my voice so that it would be heard, both literally and figuratively!"
In addition to her humorous childhood tales, the author provides the backstory of her parents who were shaped by the Great Depression and World War II: her father from Stratford, Connecticut, and her mother from San Antonio, Texas. "My parents belonged to the Greatest Generation; they would never forget the hard times of their youth. They overcame their humble beginnings to pursue their education, interests, and goals," she said.
Educated at the University of Texas at Arlington, Johns Hopkins University, and Washington University in St. Louis, the author has worked more than twenty years in the technology sector. She resides in Sandy Hook, Connecticut. Fans can join her Facebook page at http://www.facebook.com/kelley.t.jansson, follow her on Twitter at http://www.twitter.com/kelleytjansson, or visit her website at http://www.kelleytjansson.com. The author is available for speaking engagements.
Center Chimney Publishing is an independent publisher dedicated to providing nonfiction works that use humor to enlighten family stories, history, and reference guides.