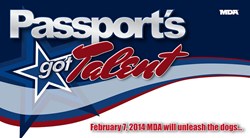 Houston (PRWEB) January 31, 2014
The Muscular Dystrophy Association Houston Gulf Coast is set to fight back against muscle disease at the 8th annual Passport to a Cure Gala presented by Kroger on Friday, Feb. 7 at 7 p.m. at the Woodlands Waterway Marriott in Woodlands Texas.
More than 600 of Houston's business and civic leaders will be present at this year's event, themed "Passport's got Talent," to enjoy a night complete with awards, great food and live entertainment. Guests also can participate in a silent auction where they will have the chance to bid on unique items, including an MDA summer camp T-shirt quilt, a trip to Ireland and a painting that is created live at the event.
The 2014 Gala will honor Jiffy Lube International Inc. as this year's Ambassador of Hope for its commitment to helping children and adults served by MDA in the Houston area.
"Support from Jiffy Lube and its generous franchisees helps families affected by muscle disease to 'leave worry behind,'" said MDA Divisional Director Annie Clary. "Jiffy Lube has supported MDA on a national level for the past two years and has raised nearly $3 million dollars through the annual MUSCLE UP® campaign, so we're thrilled to be able to recognize the company at this year's gala as our Ambassador of Hope."
The event will be capped by a special performance from the 2012 "America's Got Talent" winning act The Olate Dogs, a dog trick act featuring trainers Richard and Nicholas Olate.
Linda Lorelle, formerly of KPRC, Channel 2 and longtime MDA supporter, will serve as event emcee for the evening.
Additional guests set to attend this year's event include: President of Jiffy Lube International Steve Ledbetter; Dr. Stanley Appel, a longtime MDA research grantee and director of the MDA/ALS Center at Methodist Neurological Institute in Houston; President of Kroger Southwest Bill Breetz; Ultra Petroleum Corporation CFO Mark Smith and Brand Development Strategic Support Manager at CITGO Petroleum Corporation Billie Gruschkus.
About MDA
The Muscular Dystrophy Association is the world's leading nonprofit health agency dedicated to finding treatments and cures for muscular dystrophy, amyotrophic lateral sclerosis (ALS) and other neuromuscular diseases. It does so by funding worldwide research; by providing comprehensive health care services and support to MDA families nationwide; and by rallying communities to fight back through advocacy, fundraising and local engagement. Visit mda.org and follow us at facebook.com/MDAnational and @MDAnews.
-MDA-