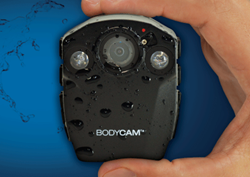 ...the most reliable, simple and affordable body camera...
Byron Center, Michigan (PRWEB) January 31, 2014
PRO-VISION Video Systems current body-worn video camera, BODYCAM™, has updated functionality that further separates the camera from the competition. The camera, originally equipped with features including 1080p True HD Video, Night Vision and Waterproofing, now has improved evidence chain integrity.
The enhancements, offered with no increased in price, allow law enforcement administrators to assign each camera with a unique identifier such as a badge or camera number which can be stamped on the video during recording allowing for easy origin identification. In addition, administrators are also capable of enabling or disabling the camera's file delete function. This added functionality improves evidence chain integrity.
"Offering these valuable features to both our past and future customers with no increase in price demonstrates our commitment to provide the most reliable, simple and affordable body camera to our customers," said Sam Lehnert, Marketing Manager for PRO-VISION.
The upgrades have been implemented on all new orders of BODYCAM™ cameras and are easy to enable on prior purchases. To get your hands on a new BODYCAM™ body-worn video camera or upgrade an existing BODYCAM™ call 800-576-1126.
About PRO-VISION – In 2003, PRO-VISION was incorporated and focused solely on back-up camera systems. 2005 marked their entry into the school bus market which helped their sales top 1 million dollars the following year. The company made their first international sale in 2007, and by 2009, PRO-VISION had expanded into commercial recording systems. During that time, they also released 4-camera school bus systems and made available live video viewing and video file transfer. In 2011, the company expanded into law enforcement recording systems and initiated its overseas sales program. 2013 brought on the 10-year anniversary of innovation and aggressive performance in the commercial video system industry, as well as the expansion of sales into over 15 countries around the globe including South Africa, Great Britain, Australia, Mexico, and Brazil.