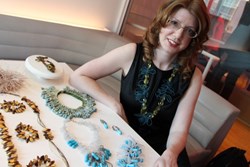 'Having stellar product images is one of the most important investments a designer can make for their business,' says Pajak-Reynolds.
New York, NY (PRWEB) January 31, 2014
Michelle Pajak-Reynolds is accustomed to the oohhs & aahs from people who see and touch her couture jewelry collection in person, but not until she learned how to have her work photographed correctly did that same impact come from those that viewed her collection online or in magazines.
"Having stellar product images is one of the most important investments a designer can make for their business" says Pajak-Reynolds. As a couture jewelry designer, her collection has been on the runways during New York Fashion Week and what she has learned about how her work is photographed has helped get the attention of top tier fashion editors and stylists.
In a recent article on FashionMingle.net, the jewelry designer shared what she has learned about photographing a look book and getting the most out of your fashion photography budget.
Pajak-Reynolds says the first thing to do is to define your target audience and marketing goals. These goals greatly influence the ideal photography style for your collection. Secondly, understand the photo standards for the industry serving your target audience. If your images are not up to current industry standards, you'll make a poor impression and miss out on valuable opportunities for your brand.
Since most publications require products shown on a pure white background with no shadow, it's important to have knock-out images taken of your collection. Pajak-Reynolds also offers tips on including models in your photography plan. "Models can be a wonderful addition to your marketing that reinforces your branding message," says Pajak-Reynolds, but she choosing and styling the models correctly is critical to a professional finished product.
The designer also says that hiring an experienced photographer who is passionate about shooting the style of images you require will help you reach your marketing goals. Pajak-Reynolds recommends that "when meeting with your photographer, you should clearly explain all the ways you intend to use the photos and bring examples of the publications serving your market niche."
Michelle Pajak-Reynolds will be presenting her latest couture jewelry collection, "Hypatia," at Nolcha Fashion Week's Fashion Lounge and Media Brunch on February 13, 2014 at The Empire Hotel Rooftop. The "Hypatia" Collection features one of a kind handcrafted pieces inspired by the beauty and mystery of outer space. Press, media, stylists, retailers, buyers, and bloggers are welcome to register at http://www.nolchafashionweek.com.
About FashionMingle.net
FashionMingle.net is a network for fashion entrepreneurs to share, discover, and mingle. The business directory and social network creates a PR platform for fashion entrepreneurs to promote their services and grow their business. More information can be found at FashionMingle.net.