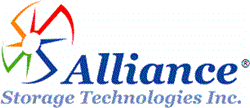 We share similar customer-oriented principles.
Colorado Springs, CO (PRWEB) January 31, 2014
Alliance Storage Technologies Inc. (ASTI), the leader in professional data archiving solutions, and leading service provider Essintial Enterprise Solutions (Essintial), partner to provide ASTI data archiving customers with the best possible maintenance and service coverage available in the US and Canada.
ASTI offers worldwide 24 x 7 support services for Plasmon and ASTI data archive systems through its extensive network of Authorized Service Providers (ASPs). "ASTI is always looking for service partners that share our commitment to providing customers with high quality service", said Chris Carr, CEO Alliance Storage Technologies. "This new service agreement will allow ASTI to expand the superior customer services our valued US and Canadian customers and distributors have come to expect. We are happy to have Essintial Enterprise Solutions on our team as we share similar customer-oriented principles."
ASTI certified ASP's are required to meet specific standards for quality service ensuring that all customers receive the highest level of expert care and support. ASP's are directly backed by ASTI's high level support team experienced at providing the gold standard in support services across a variety of industries. ASTI's ASP network provides customers with extensive coverage and availability options for their maintenance service and support plans.
Essintial will be providing on-site labor and logistics for customers operating under ASTI service agreements as well as time and materials support for services required outside of contract coverage. ASTI's responsibilities includes the supply of ASTI manufactured and certified parts, advanced support including software and hardware engineering support, problem analysis, and repair recommendations in concert with Essintial's onsite FE's.
"Essintial is very excited about this partnership with ASTI", states Tom York, Essintial CEO and a former IBM Global Services executive. "Attaching our suite of support and professional services to the outstanding data archiving solutions of Alliance Storage Technologies truly gives their clients a seamless end to end, long term solution."
The mutually beneficial partnership between the companies merges the best-in-class expertise of both organizations extending service capabilities and creating a highly advantageous environment for customers. The extensive agreement will enable Essintial to repair and maintain ASTI AA and G Series libraries, and legacy equipment such as Plasmon M, D and 12 Inch Series, and Filenet OSAR libraries, as well as HP and IBM libraries. Essintial will also be available for new equipment installations and onsite system upgrades and many other related services.
About Alliance Storage Technologies Inc.
Alliance Storage Technologies Inc. (ASTI) is the primary source for professional data archiving solutions worldwide that meet and exceed today's challenging regulatory demands for secure archival data. Professional solutions provide value to any industry including: Healthcare, Finance, Government, Insurance, Legal, and more. These regulatory-compliant systems preserve unaltered data for extended periods (greater than 50 years) at an exceptionally low total cost of ownership.
Scalable product offerings include: Direct and Networked-Attached (DAS/NAS) Plasmon® storage libraries, with Ultra Density Optical (UDO®) as the core technology, related Write-Once-Read-Many (WORM) media, and archive software. Best-in-class global support services are available to sustain customer installations. Additionally, a complete line of certified Plasmon® parts are available. ASTI is committed to providing every customer with exemplary customer service and support from first contact through the life of the relationship. Thousands of businesses worldwide trust ASTI quality to secure their valuable investments in corporate data.
About Essintial Enterprise Solutions
Essintial Enterprise Solutions provides IT service supply chain infrastructure services specializing in multi-vendor support solutions and a full suite of technology oriented professional services. The company leverages its national infrastructure; custom services management systems, and decades of experience to assist enterprises in maximizing the availability and management of their technology infrastructure at the most efficient cost. Essintial is privately owned by an investor group with offices in Boulder, Colorado and Los Angeles, California. Learn more at http://www.essintial.com.
For further information, please visit http://www.alliancestoragetechnologies.com, or call 719-593-7900.
###