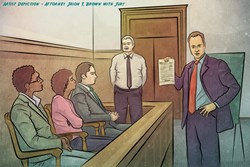 The evildoers never sleep and neither do we.
Jersey City, NJ (PRWEB) January 31, 2014
On January 31, 2014, The National Academy of Personal Injury Attorneys Awarded Jason T. Brown a Top 10 Attorney Award for his tireless work and results litigating matters on behalf of injured Plaintiffs. Mr. Brown commented, "It is an honor to receive this award and to know all the long hours and hard work we put in fighting for people's rights bear fruit for our clients and bestow upon on this distinction. We will continue to push hard for the new year and if one follows our achievements there are many exciting announcements the firm with have in the coming weeks."
The National Academy of Personal Injury Attorneys ("NAOPIA") is an organization devoted to recognizing the top Personal Injury attorneys in the nation. With over a million attorneys in the United States, choosing the best lawyer is difficult. However, through a stringent selection process, the NAOPIA awards the best Personal Injury attorneys in each state with our most prestigious honor of "TOP 10". The very few attorneys (less than 1%) that are good enough to make the list have demonstrated an extraordinary amount of knowledge, skill, experience, expertise and success in their practice of Personal Injury. NAOPIA's research staff verifies that they meet the requirements of membership. Then they have to advance to the final selection stage by a processing committee. And, finally they have to be selected by a Board of Governors as the "TOP 10". As NAOPIA states, "We know it is a tough process but we wouldn't have it any other way."
Jason T. Brown was formerly a Special Agent and Legal Advisor with the Federal Bureau of Investigation (FBI). After serving as an Agent in very high profile cases he became managing partner of a Manhattan based law firm that handled mass torts and class actions. Now he heads a firm that fights for people's rights nationwide. "The evildoers never sleep and neither do we." Brown stated. "Complex litigation is intense but rewarding and we love leveling the playing field against some of the biggest companies represented by the most powerful law firms. I enjoy the challenge and have the energy and desire to win. The bigger they are, the harder the fall."
Mr. Brown is noted for commencing some of the first lawsuits against new generation birth control products which he alleges may be less safe than earlier generations. The bulk of the litigation surrounding the product Nuvaring originated with Attorney Brown and he currently represents in conjunction with co-counsel over 400 women who allegedly sustained life altering blood clots, like Deep Vein Thrombosis (DVT), Pulmonary Embolisms (PE), or death from the alleged use of the product. The formal case is In re: NuvaRing Products Liability Litigation, No. 08-md-1964, JPML, Eastern District Missouri.
"As a consumer advocate, I remain extremely concerned about the new generation of hormonal products that are 'tested' on young women everywhere," Brown stated. One of the litigations that he remains active in is the Yasmin litigation which has resulted in over a billion dollars of recoveries for women who allegedly sustained blood clots, like deep vein thrombosis, pulmonary embolisms, strokes, sagital venous thrombosis, blindness or death. The allegations stem from a hormone within such products as Yaz, Yasmin, Ocella, Gianvi and BeYaz which Mr. Brown alleges are twice as deadly as earlier generations of birth control. "New products should be safer, not less safe," Mr. Brown states, "The pharmaceutical companies should come up with products that have half the risk as earlier generation, not double the risk. The FDA is asleep at the helm." The Yasmin/Yaz Multidistrict Litigation is found at (MDL 2100, US District Court, Southern District of Illinois).
Other products liability cases the firm handles include investigations into alleged injuries from the Da Vinci Surgical Robot, by Intuitive Surgical who received an FDA warning letter (http://www.fda.gov/ICECI/EnforcementActions/WarningLetters/2013/ucm363260.htm) and which allegedly has been linked to sepsis, burning, excessive bleeding, burns and tears, and internal organ damage. Trans Vaginal Mesh erosion which may require revision surgery to correct, which has a docket in West Virginia (2:12-md-02325). Benicar usage which may allegedly cause intestinal problems like Sprue-like Enteropathy which may result in rapid significant weight loss or death and the FDA has recently warned about (http://www.fda.gov/drugs/drugsafety/ucm359477.htm). Mesothelioma from exposure to Asbestos. Alleged gynecomastia from use of Risperdal as a minor requiring surgical correction of the breasts which is in Philadelphia Court of Common Pleas Docket 100300296. Birth defects like lung or heart damage requiring surgery allegedly from the use of SSRI products like (MDL 2342) Zoloft, Topamax, Celexa, Paxil, Effexor, Lexapro and Prozac during the first trimester and the alleged link between the use of Actos and bladder cancer. (Actos® Multidistrict Litigation (MDL 2299).
The firm also handles a variety of class actions, especially on behalf of workers who are not fully paid for all the hours worked or abruptly terminated en masse (WARN ACT). "You should be fully paid for all the hours you work and employers try many elaborate schemes to lower compensation, short pay and not pay proper overtime wages." Specific violations he points to are when workers are improperly paid a day rate or salary instead of overtime, which he indicates is prevalent in certain industries especially the oil and gas rigs and with mud loggers. The firm also handles other high profile and catastrophic cases and travels nationwide to prosecute cases in conjunction with local counsel. Mr. Brown currently has cases pending in over ten different states and will fly or litigate all over the country to meet with a client if he believes in the case. Through all the success he has had, the many multi-million dollar results, Mr. Brown remains humble and "honored to receive recognition for the quality of our litigation."