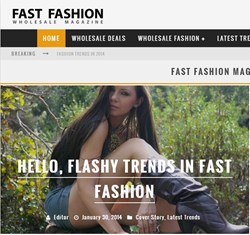 We will post more latest fast fashion trends on our website to help fast fashion wholesale industry.
Los Angeles, CA (PRWEB) January 31, 2014
Fast fashion is all about constant transitions within trends. The trends mentioned in this announcement are the most prominent of them all. As of spring 2014, these fast fashion wholesale trends will be seen in stores such as Forever21, Charlotte Russe, Mango, and any other fast fashion retailer you can think of.
Let's first begin with the hot accessory theme for spring; the Daisy. Yes, Daisy flower hair clips, necklaces, rings, earrings, shoe lace holes, and fabric. Trend watchers have spotted street style bloggers placing faux daisies in pockets on tee shirts.
Another booming trend in fast fashion wholesale industry is the Romper. The romper is making a much needed come back to offset the overalls trend that was popular for summer 2013. Rompers with floral Hawaiian patterns, V-neck cuts, ruffled hems, and silky light weight fabric are popular. Rompers with long bell shape sleeves are highly sought after due to its "day to night" transformation ability.
The next hot trend for fast fashion is Neon Embroidery. On denim fabric and accessories; neon embroidery is showcased in native American print and scull designs. The Decorative Back trend is also in. This trend is basically a blouse with creative designs on the back such as knits resembling spider webs, lace, or creative cuts.
The peace sign is popular with this trend. The Logo Trend is making its mark this spring in more ways than one. Whether it's caps, tee shirts, sweat tops, or shoes; logos in creative fonts or cursive writing are seen everywhere in fast fashion. Clothing with repeating logos, and snarky phrases are popular. Logos from the movie Mean Girls is currently trending in the juniors fashion market too.
Lastly, color blocking is back, but only with pastels. The trend is actually referred to as "Candy Blocking", and refers to any look using solid pastel tones, or clothing with pastels. These trends will be featured in fast fashion retail stores all over the U.S and even internationally. Many trends are emerging so keep up or get left behind!
"We will post more latest fast fashion trends on our website to help fast fashion wholesale industry" said Enma Brown, Editor.
For more information on Fast Fashion wholesale magazine and the newly launched website, please visit http://www.FastFashionMag.com.
About Fast Fashion
Fast Fashion Wholesale Magazine is a publication targeting fast fashion wholesalers and retailers in women's fashion industry. It has launched a new website providing information on fashion, deals, trends, and advertising. The magazine will be circulated to up to 50,000 wholesalers and retailers.