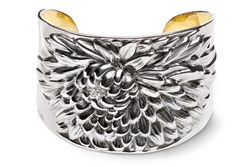 The Sunflower Cuff will remind women of wonderful beach memories and epitomizes effortless chic.
Baltimore, MD (PRWEB) February 03, 2014
Carolyn O'Keefe, managing partner of Repousse' Jewelry by Galmer, has announced the addition of two new fine retailers to its growing distribution. Beach Daisy, located in Marco Island, FL, and Simply, located in Sanibel, FL, will carry a collection of repousse' cuffs starting February 3, 2014.
According to Lee Ann Adams, "The first thing that struck me was The Sunflower Cuff because the sunflower, which is known in our area as a "beach daisy', is our guiding design motif," says Lee Ann Adams, co-owner with her husband Derek of the two successful stores. "But the quality, hand workmanship and made in America imprimatur was even more exciting." Already, Lee Ann has shown customers photos of the line and has received orders. Not surprisingly, resort visitors have favored The Sunflower Cuff due to happy memories of their beautiful Florida gulf experiences.
Lee Ann's strong background in retailing paved the way for the stores' remarkable success. She was an early leader at Chico's when the company had fewer than 50 stores and went on to represent Fresh Produce Sportswear in Florida and the Caribbean. Lee Ann foresees a strong market for Repousse' Jewelry among tourists and residents alike. "Our customers want effortless chic, and what could be more effortless than slipping on a great silver cuff?" she says.
Sanibel Island boasts 15 miles of beaches, 25 miles of bike paths, 230 kinds of shells and 0 traffic lights. Known as a boater's paradise, Marco Island is the largest of the gulf area's Ten Thousand Islands with a crescent shaped beach extending the entire length of the western side of the island. Both islands are notable for their diverse natural charms and cultural offerings in theatre arts and music, which can often be a rarity in beach communities.
Repousse' Jewelry by Galmer debuted in July 2011 at the Luxury Prive' jewelry show at The Pierre Hotel in New York City. The company offers silver repousse' bracelets, earrings, pendants and rings created in America by Galmer Ltd. and designed by America's premier silver artisan Michael Izrael Galmer. In its January/February issue, the silver connoisseurs' bible, Silver Magazine, did a two-page feature on the artist's career and work. Says Carolyn O'Keefe, "Michael's lineage of work for Tiffany & Co., historical societies and private commissions worldwide are part of what makes his hallmark valuable. Each piece of jewelry is an instant heirloom with enduring worth through generations."
Repousse' Jewelry is available in stores including Tiny Jewel Box, DC, Works Gallery, NYC, Donald Haack Jewelers, Charlotte NC, DeScenza Diamonds and Sharfman's Jewelers in MA, Summerwind Jewelers NH and The Karat Patch AL. The full line is also available for browsing and purchase through the company's website http://www.repoussejewelry.com or http://www.theforevercuff.com.