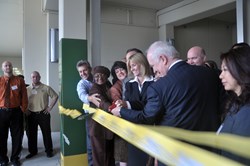 Orlando, Fla. (PRWEB) February 02, 2014
CFE Federal Credit Union celebrated the grand opening of its newest high school branch today at the Oak Ridge High School campus with a special ribbon cutting ceremony. "The Ridge Branch" is the fifth CFE high school branch to open in Central Florida.
CFE's high school branch program was established in 2008 to teach students the importance of financial literacy. The branches provide real-life financial training for students, as well as the convenience of having a functional CFE branch on campus.
To build enthusiasm and raise awareness, CFE worked with the students to design a debit card that would be exclusive to Oak Ridge students and staff. CFE also created new signage that incorporated its brand with the school's colors and logo.
The branch, which has 17 student tellers, had a soft opening on September 30, 2013. Since then, nearly 400 students have become CFE members.
CFE also has student-run branches at Boone, Lake Brantley, Poinciana, and Timber Creek high schools.
About CFE Federal Credit Union
CFE Federal Credit Union was founded in 1937 by 23 educators. The credit union currently serves 131,000 members and has more than $1.4 billion in total assets. Membership eligibility includes anyone who lives, works, attends school, volunteers, or worships in Orange, Osceola, Lake, or Seminole County. Qualified businesses and other legal entities may also join. The credit union serves its members at 19 full-service branches, five high school branches, 38 ATM locations and 24-hour Internet access. CFE is recognized as a Top 25 Company for Working Families by the Orlando Sentinel.
CFE owns the naming rights for the CFE Arena on the University of Central Florida campus and is the official financial institution of the UCF Knights.