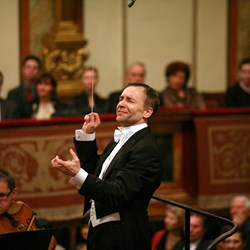 New Brunswick, NJ (PRWEB) January 31, 2014
State Theatre presents the Haifa Symphony Orchestra of Israel on February 16, 2014 at 3pm. Led by conductor Boguslaw Dawidow, the program includes Tchaikovsky's Piano Concerto No. 1 in B-flat Minor, Op.23, featuring piano soloist Roman Rabinovich; Weber's Overture to the opera Euryanthe; and the popular Dvořák work, Symphony No. 9 in E Minor, Op. 95. A free Pre-Performance Insights lecture is available at 2pm at the United Methodist Church, 323 George St. Tickets range from $35-70.
The Haifa Symphony Orchestra of Israel was founded in 1950. It has since become the central point of musical life in Haifa and northern Israel.
Boguslaw Dawidow, conductor
Internationally renowned for his musical knowledge, immense enthusiasm, and extraordinarily charismatic stage presence, Maestro Boguslaw Dawidow is currently the Principal Guest Conductor of Haifa Symphony Orchestra of Israel and the Bogota Symphony Orchestra, and the General Music Director of Chopin Chamber Orchestra. He served as the General and Music Director of the Opole Philharmonic of Poland from his appointment in September 1999 until 2012.
Roman Rabinovich, pianist
The Israeli pianist Roman Rabinovich is the top prize winner and four additional prizes at the 2008 Arthur Rubinstein International Piano Master Competition and the 1st prize at the 2007 Animato Competition. Since his Israel Philharmonic debut under the button of Zubin Mehta at age 10, Rabinovich has performed as a soloist with most of Israeli orchestras, Ensemble Orchestral de Paris, Buffalo Philharmonic, Ann Arbor Symphony, Delaware Symphony, and Dohnanyi Orchestra, among others. He has performed throughout Europe and USA in such prestigious venues as Lucerne Festival, Davos Festival, Leipzig's Gewandhaus, Wigmore Hall, Carnegie's Weill and Zankel Halls as well as Great Hall of Moscow Conservatory and Millennium Stage at the Kennedy Center.
The State Theatre symphony series is sponsored by The Blanche & Irving Laurie Foundation. Special support for this performance has been provided by Anshe Emeth Memorial Temple in New Brunswick.
For tickets or more information, call the State Theatre ticket office at 732-246-SHOW (7469), or visit us online at http://www.StateTheatreNJ.org. The State Theatre ticket office, located at 15 Livingston Ave, New Brunswick NJ, is open Monday, Tuesday, Thursday, Friday, 10am to 6pm; Wednesday 11am to 7pm; Saturday, 1pm to 5pm; and at least three hours prior to curtain on performance dates, unless otherwise specified. For information on group outings and discounts, call 732-247-7200, ext. 517. Some additional ticket and transaction fees may apply.
State Theatre, a premier nonprofit venue for the performing arts and entertainment. The theater exists to enrich people's lives, contribute to a vital urban environment, and build future audiences by presenting the finest performing artists and entertainers and fostering lifetime appreciation for the performing arts through education. The State Theatre's programs are made possible, in part, by funding from the New Jersey State Council on the Arts/Department of State, a Partner Agency of the National Endowment for the Arts, and contributions from numerous corporations, foundations, and individuals. The Heldrich is the official hotel of the State Theatre. Magic 98.3 is the official radio station of the State Theatre. The Star-Ledger is the official newspaper of the State Theatre. United is the official airline of the State Theatre.
STATE THEATRE
15 Livingston Ave
New Brunswick, NJ 08901
Ticket Office - 732-246-SHOW (7469)
Online - http://www.StateTheatreNJ.org
INTERVIEWS AND PHOTOS FURNISHED UPON REQUEST
Please contact Kelly Blithe at 732-247-7200, ext. 542 or by email at kblithe(at)StateTheatreNJ(dot)org.
Up-to-the-minute information on events and State Theatre news, online at http://www.StateTheatreNJ.org.