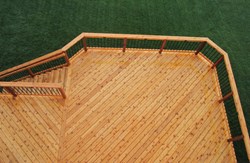 "We are very pleased to have Rocco Building Supplies as a distribution partner, and look forward to customers in the mid-Atlantic regions having greater access to the broader family of CAMO Hidden and CAMO Exterior," said Jeff Bradshaw
(PRWEB) February 03, 2014
National Nail Corp. (NNC) is proud to announce Rocco Building Supplies, LLC as a new distribution partner for their CAMO Hidden Deck Fastening System and CAMO Exterior Screws. CAMO product is currently available from their Harrisonburg, Va. location.
Started in 1969, Rocco Building Supplies is a two-step wholesale building materials distributor servicing lumberyards, specialty dealers, and home centers. Their sales territory extends throughout Virginia, the Washington D.C. and Baltimore metropolitan and surrounding areas, and adjacent territory in West Virginia.
The CAMO Hidden Deck Fastening System is a versatile, affordable, easy-to-install hidden deck fastening system designed for both professional deckbuilders and homeowners. Great for PVC, treated wood, hardwood, cedar and composite decking, CAMO Hidden Fasteners deliver a beautiful, fastener-free deck surface. The patented system includes Hidden Fasteners, Marksman® tools and Driver Bits. Together, they enable fasteners to penetrate the side of the deckboard, allowing screws to be hidden and securing deckboards directly to the joist.
CAMO Exterior Screws designed for installing all aspects of a deck from substructure to trim, as well as other exterior projects. These color-matched face fasteners complement the colors of leading manufacturers' deckboards and treated lumber to blend in with board surfaces. All CAMO Exterior Screws are ACQ-compatible, and include buglehead and trimhead Premium Deck Screws, Ledger and Multi-Purpose Structural Screws, Composite Screws (for capstock, composite and PVC boards), and buglehead, trimhead, and composite 316 Stainless Screws (recommended for marine environments).
"We are very pleased to have Rocco Building Supplies as a distribution partner, and look forward to customers in the mid-Atlantic regions having greater access to the broader family of CAMO Hidden and CAMO Exterior," said Jeff Bradshaw, Market Development Leader of Northeast Distribution at NNC. "Rocco is a new distributor of AZEK® decking, who recommends and approves the CAMO Hidden System, and Rocco's logistic capabilities and thorough understanding of the building and fastener industry make them a natural choice to partner with National Nail Corp."
For more information, please visit http://www.camofasteners.com.
National Nail Corp., headquartered in Grand Rapids, Mich., is an employee-owned manufacturer and distributor of high quality, innovative building products and service solutions for the residential and commercial construction industries. Other National Nail brands include Pro-Fit® Fasteners, STINGER® Cap Systems and Impressions Storm Doors and Windows.