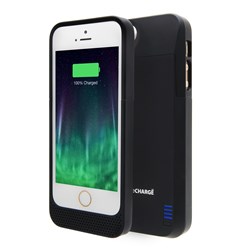 Rechargeable Battery Case
Dallas TX (PRWEB) February 04, 2014
According to a January 2014 Canadian Press (http://ca.news.yahoo.com/mobile-apps-help-canadian-snowboarder-freestyle-racer-prepare-205452778--oly.html) article, the Sochi Olympians will be relying on technology more than ever before. As they gear up for the Games, athletes are turning to their iPhones for training advice, and the new battery iPhone case from LifeCHARGE is making sure they never lose access to that vital information. By affording up to 10 hours of video playback time, Olympic athletes can rely on the iPhone 5 case throughout their long, rigorous practice sessions.
As the Canadian Press news report pointed out, "Technology has come a long way since (Sochi-bound) Caroline Calve began her career nearly a decade ago." More specifically, the snowboarder's "iPhone and its many apps have become invaluable tools in her preparation" for a shot at Olympic gold.
"This is their one chance at glory, and Olympic athletes train long and hard," explains LifeCHARGE's spokesperson. "When they're relying on their iPhones to make their dream come true, they need a battery life they can count on. We're excited that our battery iPhone case might aid in their gold-winning efforts."
For more information about how a LifeCHARGE iPhone case can assist athletes in their quest for the Olympic podium, contact OnTrion's Palki Kochar. To learn more about the LifeCHARGE battery iPhone case, visit the manufacturer on the web at http://www.ontrion.com/lifecharge.
CONTACT INFORMATION:
LifeCHARGE
13650, TI Blvd., Suite #309
Dallas, TX 75243
(877)676-0877