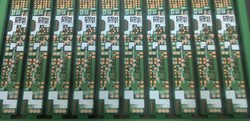 (PRWEB) February 02, 2014
Polyonics has introduced a new high temperature label material that meets the stringent ASTM E595 out-gassing requirements. Along with minimal out-gassing, the new label material, XF-528, is also rated for 260C and is chemical resistant to the typical chemicals used in the manufacturing of printed circuit boards.
Out-gassing is critical issue in the manufacturer and operation of specialized electronic devices such as optical devices and hard disk drives. These devices are manufactured or used in high vacuum environments so even the slightest amount of outgas can be detrimental to their performance. When materials out-gas, they can leave a residue on key components that are sensitive to low levels of deposition.
To make sure materials used in the fabrication of these devices are low out-gassing, materials must meet the requirements of the ASTM E595 standard. Along with hard disk manufacturers, NASA and ESA (European Space Agency) also require low out-gassing materials including labels, be used throughout their space crafts. Any out-gasses can potentially condense onto optical elements, thermal radiators and or solar cells and obscure them, thus all materials used in their crafts must meet the ASTM E595 requirement.
Polyonics XF-528 is a 1 mil, gloss white label material with a 1 mil solvent acrylic pressure sensitive adhesive (PSA). The ASTM E595 (test report) results show XF-528 met the requirement for total mass loss (TML) of less than 1.00% when evaluated in a vacuum environment for a duration of 24 hours at 125C.
The XF-528 is a robust, thermal transfer printable label that complies with the requirements of RoHS, REACH and is certified to be halogen free to the IEC 61249-2-21 levels. It can be used in several applications including:
Barcode tracking of printed circuit boards
Electronic component identification
Warning labels for embedded batteries
To receive technical information and samples of this new innovative product, please contact a technical expert at +1(603)352-1415 or email at info(at)polyonics(dot)com.