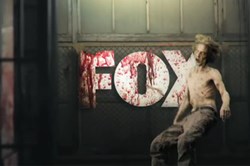 Buenos Aires, Argentina (PRWEB) January 31, 2014
Buenos Aires design + animation company, SuperEstudio created an oozing, sensational on-air package for the drama series, The Walking Dead. The Global and Creative Team of Fox International Channels commissioned SuperEstudio to execute a tease campaign that captured the zombie essence, or in this case, lack of essence.
The strategy and imagery was led by Fox International Channels creative team of Corina Capuano and Juan Pablo Cionci. The concept meant SuperEstudio needed to "Zombiefy" the network identity across all FOX brand elements as a launch promotion for The Walking Dead's new season.
SuperEstudio, having developed the FOX Global image in 2012, was tapped to bring The Walking Dead campaign to life... or to kill it? The customized campaign of on air elements included a promo ID announcing the premiere date, countdown IDs counting down the number of days before the premiere, and a station ID showing the logo turning into a zombie. The logo transformation was used within all the on-air pieces on the day of the premiere.
The development involved the use of textures and graphic treatments reminiscent of the series, maintaining the exact layout and animation of the generic FOX package. "As with all tune-in branding, the challenge was to send a very clear message," said Juan Pablo Cionci, Creative Director, Fox International Channels. "At the same time incorporating the The Walking Dead graphic look within drastically different programming."