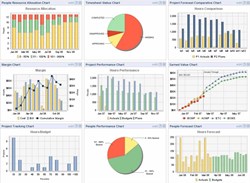 We're excited to be involved with chambers of commerce and professional organizations nationwide to help local businesses thrive through community. - Fran Craig, Unanet CEO
Dulles, Virginia (PRWEB) January 31, 2014
Unanet, a developer of services automation software that helps organizations manage people and projects for improved profitability, has announced that it has become a member of the San Diego Chamber of Commerce (SDCC) to support continuing growth of the company nationwide, and in the San Diego area.
Unanet is used by organizations involved in sectors such as Government Contracting, Commercial Consulting, Engineering, Shared Services, Federal & state government, and Higher Education. Unanet software is available both On Demand in the cloud, and On Premise.
For the past decade, Unanet has been serving customers in the San Diego area, and is further building its local presence through support of the SDCC, and attending many of its events. Erik Erlendsson, Director of Business Development and Unanet's newest employee in the area, is leading this program.
Unanet is a member of several chambers in the DC metropolitan area, including the Fairfax County Chamber of Commerce (FCCC), Montgomery County Chamber of Commerce (MCCC) and Loudoun County Chamber of Commerce (LCCC). The San Diego Chamber of Commerce joins outside-the-DC-Metro region memberships for Unanet alongside professional organizations in San Francisco, New England, Texas and Michigan.
Fran Craig, Unanet's CEO commented, "We have customers and partners in the San Diego area and a group of outstanding employees, so it's a natural progression in joining the chamber. We're excited to be involved with chambers of commerce and professional organizations nationwide to help local businesses thrive through community."
About the San Diego Chamber of Commerce
The San Diego Regional Chamber of Commerce was founded in 1870 by Alonzo Horton with the mission to guide in the development of San Diego. At the time, the Chamber focused its efforts on several main priorities: bringing railroads into San Diego; encouraging settlement in the area; bringing fresh drinking water to residents; and supporting commerce in the harbor. The Chamber also played a critical role in bringing military bases into the region prior to World War I. It was these efforts that helped the military become a driving force for San Diego's local economy.
About Unanet:
Unanet is a leading provider of Cloud or On-Premise software for project-based organizations. Unanet delivers skills management, resource planning, budgeting & forecasting,timesheets & expense reporting, billing & revenue recognition, and project management reporting. Over 1,000 organizations rely on Unanet to maximize staff utilization, reduce administrative costs by 90%, improve invoicing by 10X, and support forward decision-making for improved operations.