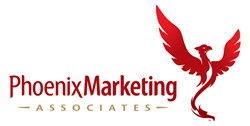 We're very pleased to have received this recognition and see it as validation of the unique campaigns we have executed over the last few years
Phoenix, AZ (PRWEB) February 03, 2014
For the second year in a row, Phoenix Marketing Associates (PMA) has been recognized as one of the Valley's top marketing and social media firms according to the Phoenix Business Journal.
The recent article also highlighted marketing firms with the highest twitter following—PMA came in at number three in Phoenix with 7,233 followers. Also adept at search engine optimization (SEO), PMA ranks number one on Google for the keyword search term "Marketing Firms Phoenix."
Having recently completed consulting assignments for a broad range of clients including Rick's Café in Jamaica, The American Academy of Pediatrics, ICG Consulting and DB Schenker USA, PMA continues to build its reputation as the go-to firm in Phoenix.
Also specializing in marketing planning and brand development, PMA is responsible for catapulting numerous concepts from platform to launch and enhancing existing, decades old brands into the modern age.
"We're very pleased to have received this recognition and see it as validation of the unique campaigns we have executed over the last few years," explained Jason Jantzen, President of Phoenix Marketing Associates.
About Phoenix Marketing Associates:
Phoenix Marketing Associates works with small to medium sized businesses across North America to provide targeted and results driven marketing solutions on a contract basis within any budget. Their consultative approach allows for a thorough needs analysis which translates into an effective marketing and PR strategy that saves their clients time and money while providing maximum exposure.
By assigning a team of qualified professionals to each individual situation and utilizing the most current communication and online demand generation technologies, Phoenix Marketing Associates enables businesses to achieve Fortune 500 results on an entrepreneurial budget. For additional information, please visit http://www.PhoenixMarketingAssociates.com.
Media contact:
Christine Holtz
Phoenix Marketing Associates
602-282-0202