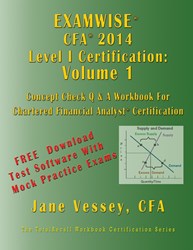 Even after investing an average of 300 study hours, only 38% of 2013 CFA Level I candidates could celebrate a triumph. More practice questions may help.
Friendswood, TX (PRWEB) January 31, 2014
TotalRecall Publications, Inc. announced today publication of new 2014 editions of its Q&A workbooks for Level I of the Chartered Financial Analyst (CFA) Exam. Written by 20-year CFA charter holder and exam instructor Jane Vessey, 'ExamWise 2014 CFA Level I, Volumes 1 and 2' include 1,000 CFA-style practice questions in a flash card format. The accompanying downloadable test engine creates unlimited practice exams to identify pre- and post-study strengths and weaknesses. The test engine also generates timed mock exams that simulate sitting for the real exam under pressure.
Passing the grueling CFA Level I Exam on the first attempt is notoriously difficult. LinkedIn CFA candidate discussion groups teem with apprehensive queries about how many attempts to make before giving up. The test requires mastering six volumes of CFA curriculum materials and drilling relentlessly with thousands of practice exam questions. Even after investing an average of 300 study hours, only 38% of 2013 candidates could celebrate a triumph.
The Volume 1 workbook contains 450 unique CFA-style questions and Volume 2 includes another 500. Questions cover all the key learning outcome statements (LOS) in the CFA Program Curriculum. The accompanying test engine download combines questions asking for calculations, definitions, interpretation and comparison of concepts so candidates can feel confident that they're well prepared to sit the actual exam. The answer to each question gives a brief explanation about why the answer is correct, plus references to it in the LOS Assigned Readings and CFA Curriculum.
All questions were developed by Jane Vessey, a CFA charter holder with 20 years in international investment management and 10 years as a professional financial trainer and CFA exam instructor. Vessey knows the exam areas candidates will probably find most difficult and has created questions that will test their knowledge and identify areas of weakness for additional study.
The ExamWise workbooks can be purchased together or separately through book retailers and wholesalers worldwide.
Jane Vessey, CFA, graduated in Mathematics from Oxford University and is a CFA charterholder. She manages a training company in the United Kingdom specializing in financial analysis and investment. After 20 years in the investment management business in London, Tokyo, and Indonesia, she now lectures at leading business schools and trains investment practitioners in top financial firms. She has been a visiting lecturer at Cass Business School teaching classes in asset management and valuation and is a visiting lecturer at Cranfield Business School. She has developed online training programs for students taking the CFA examinations and teaches CFA preparatory courses at a number of universities.
Located in Friendswood, TX, near Houston, TotalRecall Publications, Inc. was founded in 1998 by Bruce Moran, a former NASA IT professional who transitioned into computer instruction and educational materials. The company began with the introduction of study guides and innovative Q&A testing software for numerous computer certification exams. In 2005, TotalRecall applied these successful formats to the financial industry and launched products for the Chartered Financial Analyst (CFA) exams for Levels I and II. In addition to the ExamWise Q&A workbooks, the company also publishes the comprehensive CFA study guide A-Plus Study Notes CFA Level I Certification: A Complete Course of Study for Chartered Financial Analyst, by Samuel J. Gottlieb, CFP, CFA. Gottlieb also writes a similar book for Level II. TotalRecall publishes more than 200 non-fiction and fiction titles, all distributed worldwide through book retailers and wholesalers and via eBook databases such as ebrary, EBSCO, and Books24x7.com. See http://www.FinancialExam.com for a complete listing of financial books.